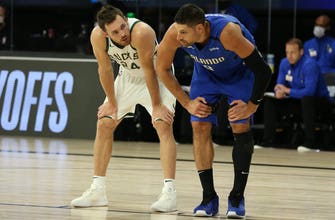 As we said before, Game 1 was just one game
As ugly as Game 1 was, the Bucks turned it up a notch in Game 2. Milwaukee led 25-13 after the first quarter and by 21 points at the half. The 111-96 final was more in line how things went in the four regular-season matchups between these two teams. One reason for the turnaround: defense. Orlando shot just 34.8% from the floor and hit on just 7 of 33 3-point attempts. Take away big man Nikola Vucevic, who is still somewhat of a problem for the Bucks (32 points, 10 rebounds), and the rest of the Magic was just 18 of 66 (27.3%) from the field. That's more like it and what we're used to with the Bucks.
You never know what you'll see from Giannis
At first glance you might look at Giannis Antetokounmpo's stat line of 28 points, 20 rebounds and five assists and say, ho hum, just another day at the office. Orlando is forcing Giannis to put up some tougher shots — he was just 10-for-23 from the field — but let's take one more look at those numbers we mentioned. Since 2000, Antetokounmpo became just the fifth player to post a 20-20-5 game in the playoffs, joining Tim Duncan (three times), Kevin Garnett, Dirk Nowitzki and Shaquille O'Neal (four times). In Bucks history, only Kareem Abdul-Jabbar had put up a 25-20-5 game in the postseason. We'd say that's some pretty good company Giannis is keeping.
Let Pat … shoot?
We know Pat Connaughton can dunk, but Milwaukee's high-energy guard proved he can shoot the rock, too. Taking a page from the Kyle Korver school of downtown accuracy, Connaughton took eight shots in 23 minutes — all from 3-point range. He made five, a season high, to account for his 15 points, his third-best total of the season. It's not just shooting, though, with Connaughton. He also grabbed 11 boards – not as many as Antetokounmpo, but more than anyone on the Magic had. Oh yeah, he also had two blocked shots (no one else in the game had more than one) and had a team-high box score +/- of plus-16. Connaughton just adds that little extra something to the team when he plays. He is Milwaukee's X factor.
Where's Donte?
Donte DiVincenzo was a regular part of the rotation throughout the season, averaging 23 minutes per game. But in the playoffs, he's played a combined 24 minutes in two games. One of Milwaukee's better defenders, it's been a surprise to not see him on the court as much. In the opener, he made only 1 of 6 field-goal attempts but did have four rebounds with a box score +/- of minus-2, which all things considering in that game wasn't bad. In Game 2, DiVincenzo had 11 points, three rebounds and a steal. Head coach Mike Budenholzer has shortened the bench some, at least in terms of minutes (only Connaughton played more than 20 minutes among subs), so maybe this is a postseason trend or it's a matchup thing. Something to keep an eye on going forward.
What's going on with Middleton?
In his first six games in the bubble, Khris Middleton made exactly half of his field-goal attempts and shot 40% from 3. In the three games since — the regular-season finale against Memphis and the first two playoffs games vs. Orlando — he's shot 30.3% (10 of 33) and made just 2 of 11 3-point attempts. Yes, Middleton has contributed in other ways — he has 11 rebounds, 10 assists and two steals in the first two playoff games — but getting his stroke going will alleviate a lot of concerns for the Bucks (and Bucks fans).