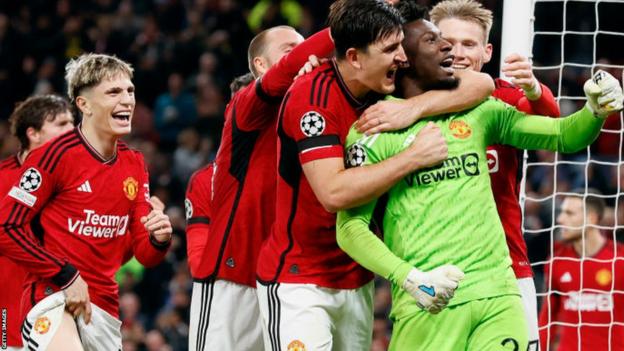 Manchester United forward Alejandro Garnacho will not be charged for using gorilla emojis in a social media post, the Football Association says.
The FA said it was "satisfied" with the Argentine's explanation "and the context it provides".
Onana previously called for Garnacho to face no punishment.
The FA said it had "reminded the player of his responsibilities around social media posts and the use of emojis in particular".
"We sought the player's observations as part of our investigation, and he explained that the use of two gorilla emojis was intended to highlight the strength and power of his teammates – specifically Andre Onana and Harry Maguire – following the pivotal roles that they played in Manchester United's win over FC Copenhagen," an FA statement read.
"We are satisfied with Alejandro Garnacho's explanation and the context that it provides, so we will not be issuing disciplinary proceedings on this occasion.
"We also intend to liaise with Kick It Out and the PFA to discuss other potential issues around the use of emojis and similar forms of messaging, and education that can be provided about them."
Onana saved an injury-time against Copenhagen to secured a vital 1-0 Champions League win in October.
The Cameroonian addressed Garnacho's post on Instagram, writing: "People cannot choose what I should be offended by. I know exactly what [Garnacho] meant: power and strength.
"This matter should go no further."
In 2019 Manchester City midfielder Bernardo Silva was banned for one match and fined £50,000 after an FA commission accepted he "did not intend" a tweet about team-mate Benjamin Mendy to be "racist".
Silva compared Mendy to the character on a packet of Conguitos, a chocolate brand available in Spain and Portugal.
In 2021 United striker Edinson Cavani was given a three-match ban and £100,000 fine for a social media post containing a Spanish phrase which is offensive in some contexts.