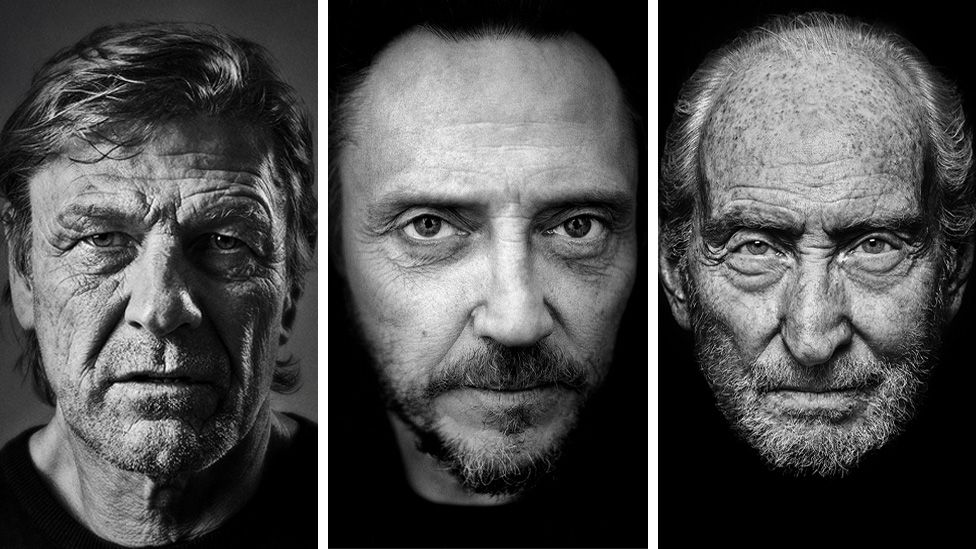 Photographer Andy Gotts has been a Bond fan since he was 10 when his parents took him to see Roger Moore star in For Your Eyes Only at his local Odeon in Norwich.
Now in his third decade as a celebrity photographer, Gotts realised he had photographed a lot of actors who had played the baddie in Bond films.
"I worked out there were only six actors still alive that had been a 007 foe that I had not shot," he says.
Gotts made it his "mission to shoot them so I had the full set". The resulting images form his NEMESIS exhibition on show in London, 70 years on from when author Ian Fleming introduced James Bond to the world.
"My favourite Bond nemesis is without doubt Auric Goldfinger. His humour and 'wheeler dealer' persona was very infectious," says Gotts.
"It is such a shame the wonderful actor Gert Frobe, who played Goldfinger, had passed away before I started my photographic career, but it will take a lot to beat this wonderful character."
Here are some of Gott's photographs of Bond villains.
Christopher Lee played Francisco Scaramanga in The Man With The Golden Gun (1974)
"I had been looking forward to this shoot for a while for a number of reasons.
"I had my equipment all ready when Christopher sat in position and started to puff on a large cigar.
"It was fascinating to hear him recant stories from the old movie days and his crowning glory, The Wicker Man, though his face started to contort when he mentioned they are going to remake it.
"Afterwards as we walked together through the hallways of the Savoy, he spotted the sheet music for The Mikado. He looked at me with a boyish glint and told me that he sings every day, and with that the hallways were filled with a bellowing rendition of Three Little Maids."
Charles Dance played Claus in For Your Eyes Only (1981)
"Charles was the very last person shot for my NEMESIS exhibition. I had been wanting to photograph him for quite some time, but I never had any luck.
"I knew via mutual friends 'Charlie' was not too keen with being photographed and this was why I always got a polite decline from his management.
"It just so happens both Charlie and I went to the same university in Leicester, DMU (De Montfort University), which was perfect when we were invited to an alumnus dinner.
"Due to clever and creative table settings, which I helped with, I ended up sitting next to Mr Dance for the duration of the meal and after several glasses of red wine he agreed to be shot by me.
Michael Lonsdale played Hugo Drax in Moonraker (1979)
"I shot Michael at his home in Paris. I have always been a fan of Michael and loved his moves going way back to The Day of the Jackal.
"I knew Michael was a tall man and quite stocky, so I was a little taken-aback when I arrived at his residence to see this fragile figure in a wheelchair. The sands of time are not kind to anyone, and it had escaped me that a man 89 years old, who had been retired for a number of years, would look quite as delicate.
"After a delightful afternoon chatting and swapping stories I headed home. A week or so later Michael passed away, so this became his very last portrait."
Mads Mikkelsen played Le Chiffre in Casino Royale (2006)
"Mads is such a down-to-earth, warm guy, though he plays Hollywood baddies probably the best.
"I love him as the tearful Le Chiffre, the foe of 007 in Casino Royale, and high-kicking Kaecilius in Doctor Strange. We both thought Marvel missed a trick and should have brought him back for the Avengers: Endgame finale.
"A huge part of me hopes he will always play the bad guy. The world needs just a charming and charismatic baddie to watch on the silver screen."
Christopher Walken played Max Zorin in A View To A Kill (1985)
"I shot Christopher in New York during a theatre-in-the-park production of The Seagull. I was given a space in the rehearsal room in a very confined corner.
"When he turned up it was like it was Christopher Walken, acting the part of Christopher Walken, a slightly unsettling airiness about him. I knew I wanted a close-up full-face shot of him, so I put on a semi-wide lens and got really close to his face.
"I could hear he was being called by one of the theatre runners, so I quickly ran off a couple of reels of film.
"And then as mysteriously as he arrived, he departed."
Javier Bardem played Silva in Skyfall (2012)
"I shot the Spanish sensation at Pinewood Studios in England and have been lucky enough to meet his wife, Penelope Cruz, a few times.
"He has these puppy dog eyes with such a twinkle, but when he fixes a stare on you, there is without doubt a hint of his unhinged character Anton Chigurh from the cult movie No Country for Old Men."
Christoph Waltz played Ernst Stavro Blofeld in Spectre (2015)
"Paul Newman gave me the nickname One Shot Gotts due to the speed of my shooting. Sometimes shoots are mega quick and other times we sit around talking for hours even before I pick the camera up.
"This shoot was a ultra-speedy one as I had to catch Christoph between the Bafta ceremony and the after party.
"He said: 'Dr Gotts, it is an honour for me to be One shot'd, your talents precede you. How do you want me?'
"My answer being: 'We are done… I've got my shot!'"
Andrew Scott played C in Spectre (2015)
"Andrew was a dream to shoot and be around. He is one of those people who does not put up barriers or just want their good side to be seen in the shots.
"After we did the entire shoot of iconic and quirky snaps we sat around chatting over a drink. I was speaking about vulnerability in art and rawness in the natural face.
"The subject turned to crying, men crying in images.
"I suggested that we should try to capture a shot with these raw and vulnerable qualities. I asked him what headspace he would need to be able to create a tear.
"Andrew sat in front of me looking down and his feet. He said: 'Are you ready?'
"He lifted his head and at that moment one tear rolled down his cheek and I captured this salty trickle at the perfect moment.
"I only took this one shot of the 'tear' image as I felt I was intruding in a moment he was having, even though this moment was specifically created to take a shot.
"It felt too personal as he was obviously thinking of something painful to cause the tear."
Rami Malek played Lyutsifer Safin in No Time To Die (2021)
"I shot Rami in Flemings Hotel, Mayfair. He was the one actor I needed to complete the set, almost like a fancy version of the card game Happy Families!
"A very quietly spoken gent, but always with a playful glint in his eye.
"We spoke of his portrayal of Freddie Mercury in his award-winning role, and I asked him if he would have fancied the part of Elvis.
"He mentioned he was more comfortable being Freddie though he would be up for playing Buster Keaton, which I can see him as."
Gotts' photographs of Bond villains can be seen until 8 January 2024 in an exhibition entitled NEMESIS at Al Mare, The Carlton Tower Jumeirah in Knightsbridge, London.