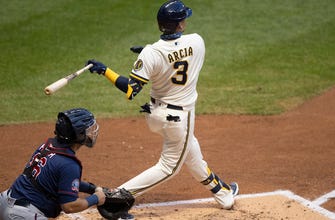 The Milwaukee Brewers have had their offensive difficulties this season, but don't blame the No. 8 and 9 hitters.
The Brewers are getting good production out of the final two spots in the lineup. Milwaukee's 8-9 hitters have combined to bat .261 this season, which is third best in the majors at those spots. The major-league average for the 8-9 positions is .219.
It's not just batting average, though. The No. 8 hitters for Milwaukee have driven in 10 runs – tied for the most among any spot in the lineup – and are slugging .414; only the No. 3 spot has a high slugging percentage (.469).
The No. 9 hitters have combined for a .361 on-base percentage, best on the team and seventh highest among last-place batters in all of MLB.
The main ninth-place hitter this season has been Orlando Arcia, who has batted last in 10 of his starts. He's batting .296/.345/.370 with five RBI in that batting position – which ranks him fifth in batting among the ninth-place hitters.
Jedd Gyorko is 1-for-2 with a double, Eric Sogard 2-for-5 with a double and two walks, Ben Gamel 2-for-5 with a double and Manny Pina 1-for-3 with a hit by pitch. Brock Holt (0-for-10, two walks, HBP) and Mark Mathias (0-for-1) round out the No. 9 hitters.
Manager Craig Counsell has mixed things up more in the eight slot, with no one having more than four starts at that lineup position. Ben Gamel is the leader with those four and he's gone 4-for-15 with a triple, two home runs, six RBI and a walk (.267/.313/.800 slash line).
Both Arcia (3-for-8, walk) and Mathias (4-for-12, two RBI) have started three games in the eight hole, followed by two from Pina (2-for-5, walk) and Omar Narvaez (1-for-6, two walks).
Other eighth-place hitters this season have been Lorenzo Cain (0-for-3), Holt (1-for-4), Logan Morrison (0-for-1), Sogard (0-for-1) and Luis Urias (0-for-2).
Other notes:
— The Brewers have done better on the road in 2020 thus far, sporting a 5-4 record with a 3.42 ERA and .196 opponent batting average.
— Arcia has fared well against right-handers this season. In 25 plate appearances he's hitting .348. In 2019, he batted .219 vs. righties.
— Brandon Woodruff is averaging 96.6 mph on his fastballs, which is the fifth-highest velocity on fastballs in MLB this season.
Statistics courtesy Sportradar and baseball-reference