Coco Gauff, who shot to fame by reaching the Wimbledon last 16 as a 15-year-old in 2019, is the latest leading WTA Tour player to write a BBC Sport column.
In her first piece at the Australian Open, the American seventh seed discusses her hopes for 2023.
Starting another season as an established pro feels pretty weird. I'm still only 18 but I don't feel like the new kid any more.
I feel I'm ready to leave behind the tag of 'teenage phenomenon'. Now it is time to be known as a Grand Slam champion.
I feel like all the players still call me a baby, and usually I'm still one of the youngest in the draw, but I've been around for a while.
My main ambition for 2023 is winning a Grand Slam title. That's the biggest goal.
It is something I have chased for my whole life and I came so close last year by reaching the French Open final. If winning a major doesn't happen this year, I will continue to chase this dream.
Last season was great for me. I broke into the top five of the world rankings in both the singles and doubles, as well as reaching both finals at Roland Garros.
Even though I lost in the singles to Iga Swiatek, it gave me a lot of confidence in my game and myself.
I know I can win a Grand Slam title. Now it is about making the final step.
I just need to fine-tune some details and I worked hard in pre-season to do that. I really think that I had probably one of the best off-seasons I have had.
It was a lot of hard work, a lot of long days. But I've improved my game a lot.
One of my other goals was to win a WTA Tour title – I didn't do that last year – and I have already that checked off by winning in Auckland last week.
The signs are good and hopefully this success continues throughout the season.
How I've learned to play every major final like it's the last
In the moments after I lost to Iga at Roland Garros, I hid beneath my towel and cried.
When you're in a match, you don't feel it is over until it is over. Then all the emotion hits you.
Although I was losing for the majority of the time in the match, I still felt I had a chance until the end. Actually, it was almost a relief when it was over.
There was a lot of pressure building up to that and I was the most nervous I have been for a match in my life.
Everybody says you don't know how you're going to feel in a Grand Slam final unless you experience it. All the other players who said that are completely right.
No matter how many finals you play at other tournaments, there is no amount of preparation you can do for that feeling of being in a major final. You can't replicate it.
It is every tennis player's dream to win a Grand Slam and I guess when you realise how close your dream is, it brings a lot of emotions.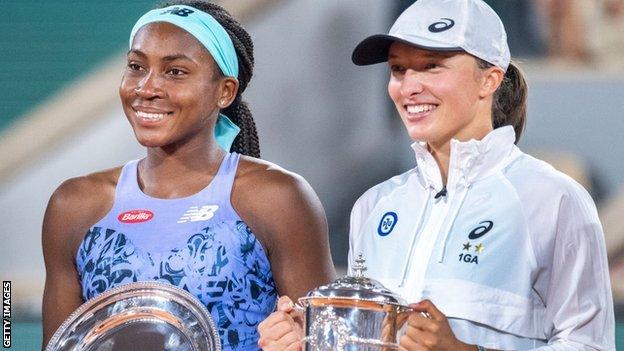 One person who knows this experience is Mary Joe Fernandez. She played three Grand Slam finals – including two here in Melbourne – and I've spoken a lot to her about how she felt.
She was telling me she regretted that everyone was telling her before the first final 'oh, you're young and you will play in plenty more finals'.
Instead, she told me to play every one like it is my last. It was great advice. You have to presume you won't get that experience again and that is the right thing to tell someone.
You don't know where life will take you.
I don't know if I will play another Grand Slam final or not. I certainly hope so.
But Mary Joe's advice changed my perception on the experience and I hope I do make another one so I can take her words and do something with it.
Bursting on to the scene at Wimbledon was like a movie
A lot of BBC Sport readers will remember how I burst on to the scene at Wimbledon in 2019 – it was a crazy, crazy tournament, but I really enjoyed what happened.
I didn't realise how big a deal it was until maybe a year later because I was just living my life in the moment.
Because I was so young and fresh on the scene, I also had no idea what players should look like going on to the tour as a 15-year-old.
Obviously it is not standard to reach the fourth round of a Grand Slam! It is usually a slower progression.
When I think back and reflect on that time, it was like living in a movie. It went by so fast. It felt like a dream – one where you can't tell if it was real or not – and like it didn't happen in real life.
Having that success at such a young age created a lot of pressure – but it was good pressure.
People were saying good things about me, wanting me to do good things. Now I hope I can live up to that by having success at the Grand Slams in 2023.
Coco Gauff was talking to BBC Sport's Jonathan Jurejko at Melbourne Park.