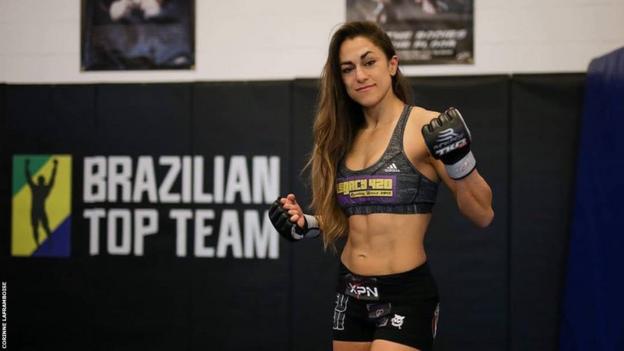 When Corinne Laframboise received a text in late August telling her she was pregnant, she thought the doctor was joking.
Canada's Laframboise had been for a compulsory blood test before the biggest fight of her career against Rainn Guerrero on Dana White's Contender Series, with the winner set to earn a UFC contract.
Laframboise closed her phone and got on with her day, where she works as a dental hygienist in Montreal, Quebec.
After finishing her shift, Laframboise replied to her doctor, asking if they had any good wishes and vibes they could send her before her upcoming bout, which was only six days away.
It was then she received a phone call, telling her she would not be able to fight.
"Corinne, it's not a joke. You are pregnant, and with the amount of hormones you have, you are probably three months passed. Or you have twins," said the doctor.
Laframboise, 34, was in shock, and she beams with joy as she describes the moment.
"I was in the car waiting for my fiance and it was like the entire world stopped – we didn't expect it," Laframboise told BBC Sport.
"I was like: 'What the hell? Twins!?'
"The day after we did the scan to see if there was a baby or a mistake [by the doctor], and there was one baby. We heard the heartbeat, we saw the two arms, two feet.
"And [now] we know it's a girl. And she's healthy, no problem."
Laframboise had been training for weeks leading up to the fight but miraculously had done no sparring – saving the baby from potential harm – because of injury.
Laframboise believes a greater force was protecting her baby.
"The first weekend I was supposed to spar, two days before I sprained my ankle. My foot was all blue and I was unable to spar for the entire training camp," said Laframboise
"I was doing swimming, I was doing more pad stuff. So I didn't get hit, I didn't get hit in the belly. So I think life made that situation happen because all the events… I think everything happens for a reason."
Looking back, Laframboise recognises she had symptoms associated with pregnancy, but mistook them for side effects from her training camp.
She also did not gain weight because of the increase in her training and stricter diet.
"I didn't have my periods but that happened to me often when you increase your level of training, it's not a big deal," said Laframboise.
"After that I wanted to puke in the morning, [but] I thought it was because of the diet.
"And usually I love peanut butter and steak, but this time I was like 'I don't want any peanut butter…' and I had big cravings for lemon.
"And that kind of thing was weird but in my mind it was because of the training camp. I train more and maybe the diet made me feel like that, but after it was because I am pregnant."
'I'm made for the UFC, but we will see what happens'
Laframboise is the current flyweight champion in UAE Warriors, the Abu Dhabi-based promotion.
Her goal, like many fighters, is to make it to the UFC, but Laframboise is unsure if she will revisit the opportunity on the Contender Series in the future.
"I cannot tell you right now," she said. "I want to focus on the baby, and what's going to happen.
"In the best-case scenario, maybe I can continue to fight. I know that I'm made to be in the UFC. I'm strong enough to be there, I like to finish people in the first and second round, I give a good show, I'm really marketable.
"I'll just see how it goes with the baby, but I don't close the door."