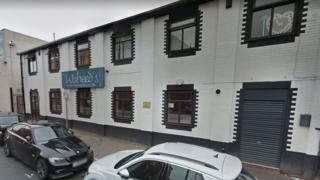 A wedding reception of more than 100 guests has been broken up by police in Blackburn.
Blackburn with Darwen brought in extra measures on 14 July after a spike in Covid-19 cases to try to avoid a Leicester-style local lockdown.
Police said the event at Waheed's Buffet and Banqueting Hall in Randal Street was a "significant breach" of restrictions putting people "at risk".
Police in Manchester also attended a wedding in a marquee with 50 guests.
The organiser of the wedding in Whalley Range in the city was given a fixed penalty notice.
The gathering in Blackburn on Sunday was dispersed and no further action was taken.
Lancashire Police's Deputy Chief Constable Terry Woods said there were between 100 and 120 people at the venue.
He said: "The vast bulk of those people were asked to leave, they were very compliant, but in effect that wedding reception was closed down and what remained was a small number of people
"Today future action is going to be considered with the local authority to see what we can do with that premises to stop it happening again.
"For businesses we know it's hard but we will name and shame places that flout the regulations to this extent and there will be consequences."
In a statement on Sunday police said: "Disappointing incident in Blackburn this evening.
"Officers have attended a report of a significant breach of Covid restrictions, and found over 100 guests at a wedding reception.
"This is a clear breach of both local and national restrictions that puts everyone attending at risk.
"Officers have engaged with the attendees and at police instruction the gathering was dispersed without further issue.
"Please work with us to help keep everyone safe by following the guidelines and restrictions."
Analysis
By Daniel Wainwright, BBC England Data Unit
A month on since tighter restrictions were introduced in Blackburn with Darwen, compared with most of the rest of England, the area still has one of the highest rates of new cases of coronavirus.
In the week to 12 August there were 141 new cases recorded, 20 more than the week before.
It works out at about 94 cases per 100,000 residents in the latest week.
The official data for England released on Sunday shows only Northampton, which recorded hundreds of cases following an outbreak at a sandwich factory, and Oldham currently have higher rates of new infections than Blackburn with Darwen.
The borough's director of public health Dominic Harrison said: "It's not fair to the majority of the population who are sticking by the guidance we've put out.
"Many people have made sacrifices and for them, something like this is not fair.
"We as a council, with the police, are going to be looking to take stronger action than we have up to now on events like this over the coming weeks."
He said the area's coronavirus rates were currently "high but contained, but they are not yet coming down as fast as we hoped".
Both Greater Manchester and parts of Lancashire have local restrictions in place to prevent people socialising with other households.
Police say they are also concerned that responses to emergencies are being delayed because of the number of 999 calls about social distancing breaches.
Why not follow BBC North West on Facebook, Twitter and Instagram? You can also send story ideas to northwest.newsonline@bbc.co.uk