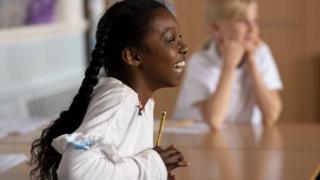 The prime minister has urged parents to send their children back to school for the autumn term.
So, how will the return to classes work?
Do I have to send my child back?
Schools in Scotland have now reopened, along with some schools in Northern Ireland. England and Wales are set to follow next month.
Children must return for the autumn term, unless they – or a close contact – develop symptoms or test positive for coronavirus.
Head teachers can follow up pupils' absences and issue sanctions, including possible fines.
Shielding has been paused, but at times some children may shield for longer because of higher local rates of coronavirus.
Separate guidance has been published for England,Scotland, Wales and Northern Ireland.
What will schools have to do?
The government has set out a system of controls for schools and said the following four points must happen in all schools, all the time.
keep pupils with Covid-19 symptoms, or with family members with symptoms, away from school
introduce more frequent hand-washing
promote good hygiene around the use of tissues for sneezes and coughs
have enhanced cleaning procedures
It also wants schools to minimise contact between individuals and maintain social distancing wherever possible.
How will the school day work?
Schools are expected to teach a broad and balanced curriculum when they return, but the school day may look different to previous years.
Schools are also being asked to:
stagger start and finish times, without shortening the number of teaching hours each pupil receives
minimise the number of contacts each pupil has during the day, by putting classes or whole year groups into "protective bubbles"
avoid assemblies or collective worship with more than one group
What happens if there's an outbreak?
A school is said to have a coronavirus outbreak if there are two or more confirmed cases within 14 days, or a rise in the number of children off with suspected Covid-19.
If this happens, they must work with local health protection teams.
In some cases, these teams may recommend that a larger number of pupils self-isolate at home as a precaution – for instance, the year group.
Where an outbreak in a school is confirmed, a mobile testing unit may be dispatched there. Testing will first focus on the infected person's class, followed by their year group, then the whole school if necessary.
However, government advice says that "whole school closure based on cases within the school will not generally be necessary, and should not be considered except on the advice of health protection teams".
If pupils can't come in, schools are expected to have a home-working plan ready to go.
What about getting to and from school?
There may be staggered start and finish times to keep groups apart and walking or cycling to school will be encouraged. Parents should not gather in groups at school gates or go on site without an appointment.
Dedicated school transport services will be asked to:
move children in "bubbles"
provide hand sanitiser
apply social distancing where possible
ask children over 11 to wear face coverings
Schools will also need a process for staff and pupils to remove face coverings safely on arrival.
What about breakfast or after-school clubs?
If possible these should resume in September, but the government acknowledges it will be "logistically challenging" and may take some schools longer.
Children should ideally stay within their year groups or bubbles – but if this can't be done, then schools should use "small, consistent groups" to minimise infection risk.
What else does the government say?
Pupils should:
wear uniform as normal
bring only essentials – including lunch boxes, books, stationery and mobile phones
take books and other shared resources home, but avoid unnecessary sharing – this also applies to teachers
take part in non-contact physical education – outside if possible – with "scrupulous attention" to cleaning and hygiene
Ofsted inspections will remain suspended for the autumn term – but schools may be visited to assess how the new arrangements are working.
---