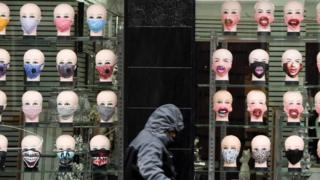 New coronavirus cases have been detected in every mainland health board area in Scotland in the past 24 hours.
There have been 176 positive tests across the country since Monday, including 91 in NHS Greater Glasgow and Clyde – where visiting restrictions are in force.
First Minister Nicola Sturgeon also said that three people had died after testing positive for the virus.
This is the highest number of deaths by that measure since 30 June, she said.
As well as the 91 cases in the Greater Glasgow area, 32 were detected in NHS Lanarkshire and 16 in NHS Ayrshire and Arran.
The remainder were spread across the other mainland health boards – although there were no new cases in the Western Isles, Orkney or Shetland.
Giving her coronavirus briefing, Ms Sturgeon again said she does not expect to be able to ease any further Covid-19 restrictions when the government reviews its guidance on Thursday.
She said: "At this time obviously we want to do everything possible to avoid the situation where more restrictions that have been lifted have to be reimposed."
The first minister also criticised the "really dangerous delusion" that rising numbers of cases among younger people should not be a concern.
Ms Sturgeon said: "The risk of a young person getting seriously ill or dying is thankfully lower, but it is not zero, and I would ask people of all ages to remember that.
"If transmission becomes established in the younger population, it will eventually reach the older and more vulnerable population. So to younger people, please think about your loved ones as well as yourselves, which I know everybody does.
"And to older people, be even more vigilant about hygiene and distancing if you're spending time with young relatives who may have been in pubs and restaurants."