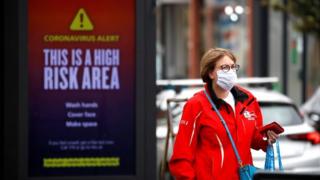 A meeting of the Northern Ireland Executive is under way to discuss the possibility of further restrictions following a dramatic rise in Covid-19 cases.
BBC News NI understands all ministers are at Stormont for the meeting.
More restrictions may be approved on Thursday afternoon after the health minister said Northern Ireland was at a crossroads dealing with coronavirus.
Robin Swann said it was "inconceivable" ministers would not take action.
That raises the potential of more restrictions on hospitality, family interaction and travel distances.
It is understood Foyle assembly members and other local representatives from Derry and Strabane have been called to a meeting with Executive Office representatives about the potential for more restrictions in that council area.
It has one of the highest Covid-19 rates in the UK, and on Wednesday Mr Swann said it was inevitable additional measures would have to be introduced there.
'Difficult decisions'
Addressing Stormont's health committee on Thursday morning, Mr Swann said: "If the current trends do not change, if attitudes to this virus do not toughen, in six weeks' time our hospital inpatient numbers will exceed those witnessed during the first wave – and that isn't even the worst-case scenario.
"We are now in a place where further difficult decisions are necessary."
On Thursday, the Department of Health announced a further 259 cases of Covid-19, down from 424 on Wednesday.
Two further Covid-related deaths have been announced, bringing the Department of Health's total to 581.
The Department of Health mostly records fatalities in a hospital setting.
On Thursday the Northern Ireland Statistics and Research Agency (Nisra) published its quarterly Covid-19 bulletin which showed that 10.9% (875) of all deaths were linked to coronavirus from 1 March and 31 August.
The official figures captures all deaths linked to coronavirus – those involving confirmed infections which feature in the department's daily figures, as well as the suspected cases in which coronavirus is mentioned on the death certificate.
'Lockdown not off the table'
Foyle DUP MLA Gary Middleton said despite concerns for the local economy a short-term lockdown "is not off the table".
"That will be disappointing. We need to get to the point where that can not be the case, but at this moment in time it cannot go on the way it is currently," he told BBC Radio Foyle.
Many people in the north west, he added, will be "devastated to hear of the potential of a further lockdown".
He said the executive could also consider tighter measures around "social settings, sporting events, places where there are larger indoor gatherings".
"We do not want to see new restrictions but it is coming to the time where we are going to have to see those introduced".
Neighbouring Donegal is already under tight level three restrictions and officials are watching closely to see what lessons can be learnt.
In the Republic of Ireland, 429 new cases of Covid-19 were confirmed on Wednesday and one more person has died, bringing the overall death toll there to 1,804.
On Thursday health officials in the Republic of Ireland that a maximum of six people from a single household should be allowed visit another home nationwide.
This rule currently applies in Dublin and Donegal, but up until now six people from three households could visit another home in other counties, which are on Level 2.
What are level three restrictions?
Public health officials at the National Public Health Emergency Team (NPHET) have created a five-level alert system in the Republic of Ireland.
Donegal is currently until level three restrictions until 16 October.
Households can mix with one other household
There should be no social, family or indoor gatherings
No matches or events, with the exception of elite sports
The hospitality industry, including wet pubs, is open with additional restrictions for indoor dining
Weddings are limited to 25 people
Prof Sam McConkey, head of the Royal College of Surgeons' in Ireland's department of international health and tropical medicine, said new measures will work if the public adhere to them.
He said cases in the Australian city of Melbourne had fallen from 800 cases a day to five after eight weeks of stricter localised restrictions.
Similarly, he said, tighter localised measures had brought the number of cases down in counties Offaly, Laois and Kildare in the Republic of Ireland.
Prof McConkey said central to curbing the virus' spread is people "shrinking their social networks".
"This can be fixed through the collective action of everyone."
Circuit breaker
A so-called two week circuit breaker lockdown is not being considered on Thursday, but the health minister said it could be brought in around the Halloween break at the end of this month, if not earlier.
Eight business organisations have appealed to the executive not to introduce another lockdown claiming it would deeply damage the economy.
In a joint statement, Belfast, Causeway, Newry and Derry chambers, Hospitality Ulster, Manufacturing NI, NI Retail Consortium and Retail NI urged the NI Executive to "resist placing the local economy in lockdown again".
They said they feared such a move would lead to business closures and job losses.
Northern Ireland is currently recording an average of 250 new cases a day and the number of Covid-19 patients in hospital was doubling every 13 days, according to Prof Young.
First Minister Arlene Foster said the rise in cases in NI was not "irreversible" and Deputy First Minister Michelle O'Neill said the executive was prepared to respond with further restrictions if necessary.
Meanwhile, from Thursday pubs and restaurants must close their doors at 23:00 BST under new rules designed to help stem the spread of the virus.
It means no food or alcohol can be served after 22:30 BST and all customers must be off the premises 30 minutes after that.
The rules also apply to hotel bars, weddings and other social events, with no late licences permitted.
No more than six people from two households may sit at the same indoor or outdoor table at a pub or restaurant here, and live music and dancing are banned.
The only exception is a couple's first dance at a wedding.
In England, there have been calls for a review of the 22:00 BST closing time rule, which has led to crowds forming in some cities after pub doors were shut.