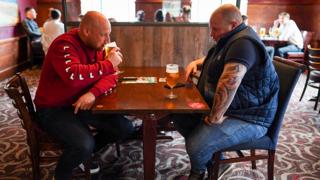 More areas of the UK have announced local restrictions to stem the spread of coronavirus.
In parts of north-east England rules are being tightened further, to limit contact between households.
What's happening in north-east England?
In the affected areas, people will no longer be allowed to mix with anyone outside their own household in any indoor setting, such as pubs and restaurants.
In other words, you will be banned from going for a drink or a meal with someone you don't live with.
The measure comes into force on Wednesday 30 September and affects Durham, Gateshead, Newcastle, North Tyneside, South Tyneside, Northumberland and Sunderland.
Households in the region had already been advised to avoid mixing but the new ban will be enforced with fines.
Anyone over 18 found breaking the rules can be dispersed by police, or face fines starting at £200 and going up to £6,400.
The restrictions don't apply to schools or workplaces. The BBC has been told mixing with other households in pub gardens or outdoor restaurant spaces is not being made illegal but goes against advice.
Which other areas have restrictions?
The nature and extent of restrictions vary around the UK. Some of the rules and places include:
England:
People cannot mix in homes or gardens with anyone outside their household in Leeds, Wigan, Stockport or Blackpool
People in Merseyside, Warrington, Halton and the parts of Lancashire not already under tightened restrictions must not mix with people outside their household in homes or gardens. Pubs and restaurants must shut at 22:00 BST
Residents in Bradford, Kirklees, Calderdale, Wolverhampton, Oadby and Wigston are banned from socialising with other people outside of their own households or support bubble in private homes and gardens
Households in Birmingham, Solihull and Sandwell are not allowed to mix with anyone they do not live with in their home or garden, unless they're in their support bubble
Those in parts of Greater Manchester – including Salford, Bury and the City of Manchester, are advised not to mix with those from outside their household or support bubble
Also in Greater Manchester, in Bolton, there are visitor limits on care homes, while hospitality venues will only be able to serve takeaways and must close between 22:00 and 05:00
People in Oldham, Blackburn with Darwen and Pendle should not meet anyone from outside their household outdoors
In Leicester, people cannot host anyone they do not live with in their home or garden, unless they're in their support bubble
Wales:
New restrictions are now in force in Neath Port Talbot, Torfaen and Vale of Glamorgan
Restrictions are already in force in Llanelli, Cardiff, Swansea as well as Merthyr Tydfil, Bridgend, Blaenau Gwent,Newport, Rhondda Cynon Taf and Caerphilly
People should not enter or leave those areas without a reasonable excuse like going to work, unless you can do so from home, or school. Pubs and restaurants must close by 22:20, but have to stop serving alcohol at 22:00
People cannot meet other households indoors, including members of extended households
Scotland:
People living in Glasgow city, East Renfrewshire, Renfrewshire, East Dunbartonshire, West Dunbartonshire, North Lanarkshire and South Lanarkshire are subject to small additional restrictions relating to care home and hospital visits, as well as contact tracing
Northern Ireland:
Currently all parts of Northern Ireland have the same rules
Further details on the measures in place and specific areas affected have been published by the governments for England, Scotland, Wales and Northern Ireland.
How many people are under extra restrictions?
In total, at least 16.6 million people are in local lockdowns in the UK – about one in four people.
This includes:
12.4m people in England, or 22% of the population
1.9m people in Wales (60%)
1.8m people in Scotland (32%)
Currently, 65% of northern England faces restrictions and 22% of the Midlands.
When are new restrictions introduced in an area?
There is no set level of infection that triggers this in a particular place, but if it posts more than 40 coronavirus cases per 100,000 people, it is likely that extra restrictions will be considered.
The number of infections is not the only factor considered.
For example, cases in Northampton jumped to 125 per 100,000 in August. But as the rise was almost entirely down to workers at a local factory no restrictions were introduced.
Local decision-makers have a framework they can use to decide whether their area should be placed under extra restrictions to protect the public..
What are 'areas of concern'?
Since June, Public Health England has been publishing a weekly Covid-19 surveillance list.
This lists those local authority areas where incidence of the disease is rising, sorting them into three categories:
Areas of intervention – where restrictions or lockdowns are in place
Areas of enhanced support – where the local council is receiving help from the government (eg extra testing)
Areas of concern – where the situation is being monitored closely, but no restrictions have been put in place
On 25 September, all 33 London boroughs were listed as areas of concern.
How long do local or regional restrictions last?
The situations are regularly reviewed and when the number of infections falls, restrictions start to be eased again.
For instance, restrictions in Aberdeen were introduced in August but later lifted.
How are these rules enforced?
Local authorities in England have powers to:
Close specific premises (such as shops, cafes and gyms)
Shut outdoor spaces (such as parks, playgrounds and beaches)
Cancel events (such as concerts, weddings and sporting events)
Central government can:
Close sectors or types of premises in local areas
Introduce localised stay at home orders
Reduce the maximum size of gatherings
Restrict the use of transport
Stop people leaving a certain area
Can police enforce the rules?
Police have powers to make sure people stick to the restrictions. For example, if they believe that somebody is staying away overnight, they can tell them to return home.
They can also fine people for breaking the rules, and may issue a "prohibition notice" directing somebody not to do something.
But if a resident from a locked-down area wants to go to a bar in another part of the city, for example, there is nothing legally to stop them.
Instead, the government hopes people's sense of civic responsibility will see them follow guidance to stay at home.