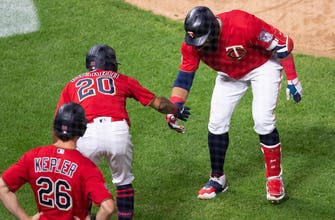 After getting out to a hot start, the Minnesota Twins power-happy offense has sputtered over the last couple of weeks.
Minnesota plated 5+ runs in just two of its last 11 games. Injuries to slugger Josh Donaldson, outfielder Byron Buxton and catcher Mitch Garver hasn't helped, of course.
But in a year in which MLB teams are hitting for a .241 average, which would be the lowest mark since 1968, the Twins' lineup of sluggers is still producing at a high level, comparatively speaking.
With runners in scoring position, the Twins are reaching base at a league-high .438 clip — 31 points better than Tampa Bay (.407), which is second highest. Minnesota is also batting .319 as a team with RISP, best in the big leagues, and ranks second with a .963 OPS.
As he has all season long, 40-year-old Nelson Cruz has produced more than anyone with runners in scoring position, going 11-for-21 with three homers, five walks and 17 RBI. Cruz leads all big-leaguers with a .630 OBP and ranks second with a 1.630 OPS in those situations.
Eddie Rosario (13 RBI), Jorge Polanco (11) and Max Kepler (10) are the other three Twins players with double-digit RBI with RISP.
One weakness of the Twins offense, however, is producing runs after the sixth inning. While the Twins have racked up a league-leading 22 runs in the first inning, they've only plated 25 runs in the seventh, eighth and ninth frames combined, the second-lowest total in MLB.
The good news is only Seattle's bullpen allows more inherited runners to score than Kansas City, this weekend's opponent. Fifteen of the 36 (41.7%) inherited runners the Royals relievers have been tasked to hold have come around to score.
Add that to the Twins' timely offense, along with the fact that Kansas City yields 52.8% of their runs via homers, and the Bomba Squad should be able to put up numbers this weekend.
NOTABLE
— At 17-9 (.654), the Twins are on pace to finish the season with the best winning percentage in franchise history. If they achieved the feat in a shortened 60-game season, there'd be a big asterisk on the record, of course.
— No one has had more success against Minnesota starting pitcher Jake Odorizzi than Kansas City outfielder Whit Merrifield, who has logged a career 1.424 OPS vs. the right-hander. Merrifield is 8 for 19 (.421) with three homers and five RBI against Odorizzi.
— Royals veteran catcher Salvador Perez has clobbered four homers this season that have traveled an average of 430.3 feet, which leads the big leagues. He also tops MLB catchers in swing percentage (60.4%) and contact percentage (78%).
Statistics courtesy Sportradar, baseball-reference.com