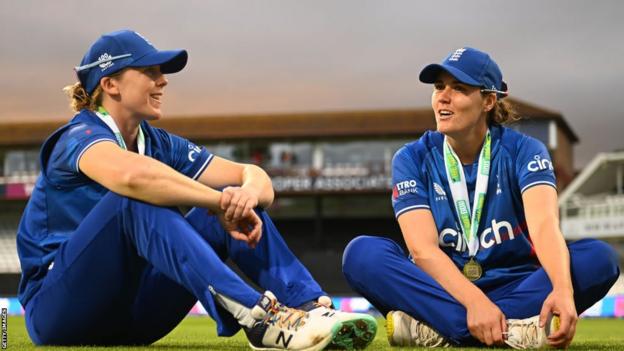 England women's match fees for internationals have been increased to match the men's with immediate effect.
It said women were paid 25% of men's fees for white-ball and 15% for Tests by the England and Wales Cricket Board.
England captain Heather Knight said the change was "fantastic to see".
"It's really important that we continue to drive the women's game forward," she added.
"The direction of travel for the women's game has always been the most important thing, creating a sustainable product that people want to watch and play, and I'm sure this will make cricket an increasingly attractive sport to girls and young women as we continue to grow the game."
The move also follows this summer's women's Ashes series, which attracted record-breaking crowds.
ECB chief executive Richard Gould said: "We are currently considering all the recommendations made by the Independent Commission for Equity in Cricket, but equalising match fees is one immediate step we are pleased to make now.
"We all want cricket to be the team sport of choice for female athletes, and with the investments we are making – and increasingly lucrative opportunities around the world – we are seeing cricketers become some of the highest earning female athletes in UK team sports.
"However, we know there is still much further to go as we ultimately strive for equality across the game."
The change has been introduced in time for England women's T20 series against Sri Lanka, which starts on Thursday.
Match fees are paid for each appearance on top of England players' wider salaries from the ECB, which are not impacted by this change.
The ICEC report, which highlighted racism, sexism, classism and elitism, found the average salary for England women is 20.6% of that for England men, while the England women's captain's allowance is 31% of that awarded to the men's captain.
In 2022, the ECB announced a £3.5m boost for each of 2023 and 2024, increasing the number of professional cricketers to almost 100.
The Football Association has paid England's men's and women's players the same since 2020.
Earlier this year the International Cricket Council committed to equal prize money in its events.