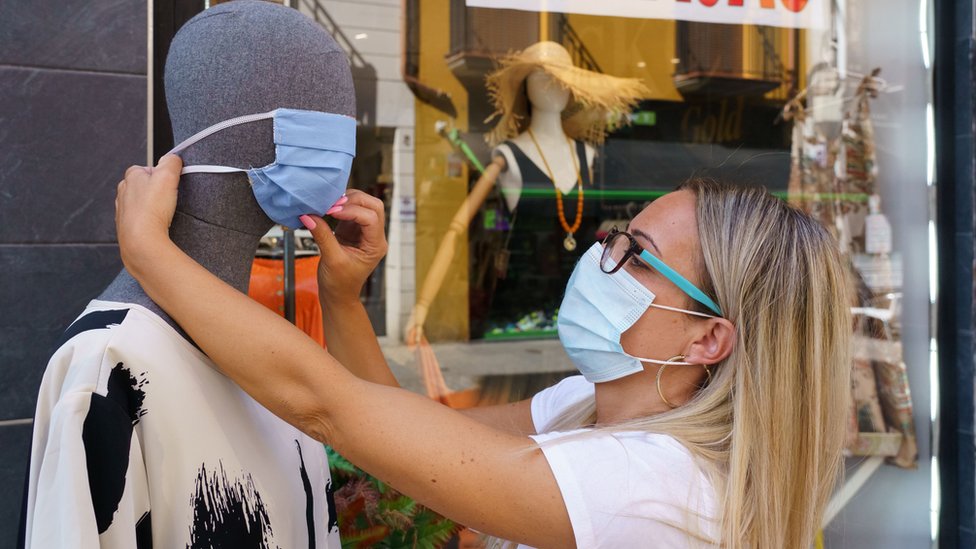 Measures to deal with coronavirus outbreaks are in place across Europe.
Many involve the reintroduction of restrictions which had been eased after initial lockdowns.
France: Night-time curfew in some cities
A curfew in Paris and eight other cities, affecting around 22 million people, will come into effect on 17 October and last at least four weeks.
People in the capital, as well as Marseille, Lyon, Lille, Saint-Etienne, Rouen, Toulouse, Grenoble and Montpellier will have to stay at home from 21:00 to 06:00. Only essential trips will be permitted.
Schools will remain open with travel between regions allowed during the day. Only six people will be allowed to gather inside private homes.
The cities of Lyon, Lille, Grenoble and Saint-Etienne became zones of "maximum alert" on the previous Saturday. It means bars and restaurants had to close, as they did in Paris earlier that week and Marseille last month.
Across France, gatherings are limited to 10 people and wedding receptions, students parties and other organised gatherings in hired locations are banned.
Face coverings are compulsory in enclosed public spaces throughout France, while specific areas have introduced additional rules.
In Paris and surrounding areas, face coverings
must be worn outdoors by anyone aged 11 and over. Hundreds of other municipalities across France have the same rule, including Toulouse, Nice, Lille and Lyon.
Spain: State of emergency in Madrid
The Spanish government imposed a 15-day state of emergency in Madrid and surrounding areas on Friday 9 October.
City officials have challenged the government over the situation, saying cases are down and a state of emergency is unjustified.
Almost five million people are affected by the restrictions, which mean:
People cannot leave or enter Madrid for non-essential reasons, although going to work and school is allowed
No social contact between different areas
Hotels and restaurants are limited to 50% capacity and must close at 23:00
Businesses limited to 50% capacity and must shut by 22:00
Family and social gatherings limited to six people
Places of worship restricted to a third of normal attendance
Catalan authorities have ordered all bars and restaurants in the region to close, from 15 October, for two weeks. They can provide take-away services only.
Face masks have to be worn by anyone over the age of six on all forms of public transport and indoor public spaces.
Most regions in Spain have made masks obligatory outdoors as well.
Netherlands: A partial four-week lockdown
Dutch authorities have introduced new measures which will come into effect at 22:00 on 14 October, after the number of daily infections surged to the highest level since the start of the pandemic.
All bars, restaurants and coffee shops have to close and can only open for take-away.
The sale of alcohol in shops and restaurants is banned after 20:00, and you are not allowed to drink alcohol in public after that time.
All shops, apart from supermarkets, have to close by 20:00 across the country.
People are advised to stay at home and work from home as much as possible. A maximum of three people can visit your home per day, and only four can meet outside, but both rules exclude children under 13.
Events such as open air concerts and funfairs are banned.
The measures will stay in place for at least four weeks.
Previous measures, such as wearing masks on public transport, shops and other indoor places, will also continue to apply.
Schools, gyms, swimming polls and saunas will stay open and children under the age of 18 can continue playing amateur sports.
Germany: New rules for arrivals from high-risk countries
A ban on large gatherings in Germany – such as public festivals, sporting events with spectators and concerts – has been extended to the end of the year in areas with high infection rates.
People failing to wear face coverings in shops or on public transport face a minimum fine of 50 euros (£46).
German authorities agreed to introduce further measures in regions where the rate of infections is high. Public gatherings will be limited to 50 people and private to 25. People who don't leave the correct identity information at restaurants and bars will be fined.
In Berlin, which is among the regions with the steepest rise of infections, restaurants and bars will have to close at 23:00 from 10 October. Private parties and gatherings will be limited to 10. Outside and at night only five people or members of two households will be allowed to gather.
Italy: Face masks compulsory outdoors
Italy has made it mandatory to wear face masks in outdoor spaces across the country in an attempt to contain the spread of the virus.
Italians must also wear masks indoors everywhere except in private homes.
In schools, face masks are obligatory for all children over the age of six when they move around the school building.
A number of new rules will be in place until at least 13 November: bars and restaurants have to close by 24:00, or 21:00 if they don't have table service. People cannot gather outside bars and restaurants between 21:00 and 06:00.
There is also a ban on parties in all indoor and outdoor venues, but wedding and other receptions can go ahead with a maximum of 30 people.
The province of Latina near Rome has been put under new measures after a spike in cases. The measures are
A midnight curfew for pubs, bars and restaurants
No more than four people per table at restaurants
A limit of 20 people at parties and religious ceremonies
A ban on visitors at hospitals and care homes
A recommendation for people to work remotely as much as possible
Denmark: Bars must close early
Denmark was one of the first countries in Europe to reopen schools in April.
However, in late August the number of cases began rising sharply.
The government responded by making face masks compulsory on public transport.
In Copenhagen and surrounding areas – which have seen a spike in cases – bars, restaurants and nightclubs must now shut at 22:00.
Private parties, and gatherings such as weddings, must end by the same time and masks must be worn in restaurants, bars and cafes.
Belgium: Football fans return
In the Belgian capital, Brussels, wearing a face mask is no longer compulsory in all public areas, since 1 October.
However, face coverings are still "strongly recommended" in places where a distance of 1.5m cannot be guaranteed.
However, other new measures in Brussels were introduced: cafes and bars have to close by 23:00 and other business selling food and drink by 22:00. These measures are now being extended to the rest of the country.
Eating at street markets is prohibited.
A maximum of four people are allowed to gather around the table in a bar and only four people are allowed in a social bubble.
Nightclubs remain closed and no major events, such as festivals, are allowed.
Football fans are being allowed to return to stadiums, but only at a fraction of capacity and they must wear masks.
Portugal: Smaller gatherings
As pupils returned to school and some workers to their offices, new restrictions were put in place from 15 September. These include the closing of commercial establishments by 23:00 and limiting gatherings to a maximum of 10 people.
Further measures, from 15 October, limit gathering to a maximum of five people, ban university parties and allow up to 50 people at weddings and baptisms.
Greece: New measures in Athens
Masks are now compulsory in all public indoor spaces and on all public transport in Greece.
In September, tighter restrictions came into force in the Attica region, which includes Athens: face masks have to be worn at work and in all crowded outdoor places.
There have also been further local restrictions introduced on some of the Greek islands, and free on-the-spot testing has been offered to people arriving on the mainland from those particular islands.
Republic of Ireland: No indoor dining in Dublin
In the capital Dublin, indoor restaurant dining was banned on 19 September for three weeks and all non-essential travel discouraged, after a surge in recent cases.
Social visits to homes in Ireland, both indoors and outdoors, are limited to six visitors from no more than three households.
Outdoor gatherings are limited to 15 people.
Those aged over 70 are again being asked to stay at home as much as possible, and people are being encouraged to work from home if possible.
There have also been a number of local lockdowns.
Sweden: Lockdown measures not imposed
There was no lockdown in Sweden but, in line with government advice, most people respected voluntary social distancing and started working from home where possible.
The country banned gatherings of more than 50 people and urged people over 70 to self-isolate – but shops, bars, restaurant and gyms stayed opened.
The number of new infections is now rising again, but not as sharply as in some other parts of Europe.
Authorities have not ruled out future restrictions, but for now businesses remain open and masks are not recommended.