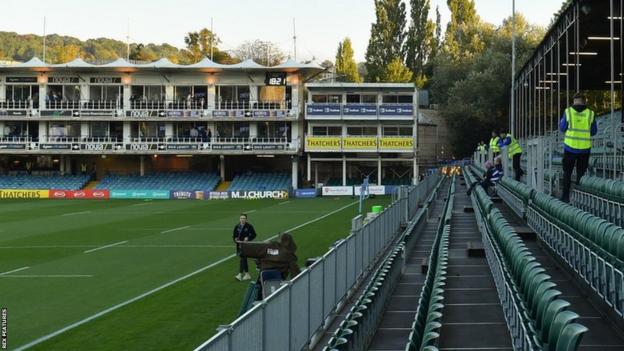 Bath's home European Challenge Cup game against Toulon on Saturday has been postponed because of flooding.
The pitch at The Rec was deemed unplayable and Bath said there were "up to eight inches of standing water" in the stadium.
Toulon still hope to play the match this weekend.
"Due to heavy and persistent rainfall over recent days, the River Avon has exceeded its bank-full capacity," read a Bath statement.
"There has been flooding in and around entrances to The Rec and on the key approach routes to the stadium, particularly at the south end of the stadium.
"There are up to eight inches of standing water in areas of the stadium, meaning it is not safe for supporters to attend.
"The pitch has also been deemed unplayable by the referee and club officials from both Bath and Toulon due to standing water at the south end of the field."
Bath have lost both games in this season's Challenge Cup, against Glasgow Warriors and Toulon.
Toulon, who have won both games, are behind Group A leaders Cardiff on points difference.
They said European Professional Club Rugby was looking at "several options" to play the game this weekend.
Bath said the situation was "hugely disappointing" and "an announcement about when the game will take place will be communicated as soon as possible".