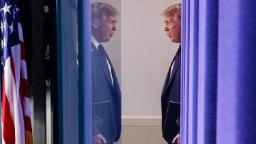 Trump also introduced a new, wildly inaccurate claim: an allegation that Democrats are cheating in the election via
their negotiations with Republicans
over a new coronavirus relief bill.
After talking about what he said was the risk of foreign countries using mail-in ballots to cheat in the election — which, as usual, he vastly overstated — Trump accused the Democrats of doing their own election cheating.
"The Democrats are cheating on the election. Because that's exactly what they're doing. If you look at what they're doing even with these negotiations. That's an influence, and an unfair influence, on an election," he said.
Facts First: This is nonsense. Participating in a legislative negotiation is simply not cheating in an election; Trump did not even attempt to explain his allegation.
Pre-existing conditions
Trump promised that he would be issuing an executive order to require health insurers to "cover all pre-existing conditions for all customers."
He then added, "This has never been done before."
We won't get into the question of the legality of a presidential attempt to use an executive order, rather than a law, to order health insurers to create such protections.
Still, though, his Friday claim created the impression that he was going to be the pioneer of protections for people with pre-existing conditions. That is not true at all.
Trump also repeated numerous false claims he has made before, including his claims that: