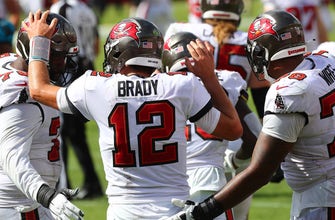 TAMPA, Fla. (Sept. 22, 2020) – FOX Sports Sun and the Tampa Bay Buccaneers announced a new broadcast agreement that will feature weekly replays of Buccaneers games on the television home for Florida sports. Beginning with Tampa Bay's Week 2 victory vs. the Carolina Panthers, Buccaneers fans are encouraged to tune every Wednesdays on FOX Sports Sun to re-watch the game from the previous week. Replays are territory restricted and will only be available to viewers in the Tampa and Orlando TV markets.
"FOX Sports Sun is excited to welcome the Tampa Bay Buccaneers to our programming line-up with this new relationship," said FOX Sports Florida – FOX Sports Sun SVP / General Manager Steve Tello. "Our network is proud to be team Tampa Bay and we look forward to bringing the Bucs and their exciting games to fans this season."
"We are excited to begin a new agreement with FOX Sports Sun to ensure that Buccaneer fans in Tampa and Orlando have the ability to relive every exciting play from the previous week's games this season," said Buccaneers Chief Operating Officer Brian Ford. "These weekly replays offer us another opportunity to connect with our great fans and provide additional access to what promises to be a very memorable season."
Exact replay times will be clarified and announced on Mondays or Tuesdays via @FOXSportsFL on Twitter. Tampa Bay's 31-17 win vs. Carolina will re-air on Wednesday, Sept. 23 at 4 p.m., but most games thereafter will be replayed Wednesday nights in primetime through the end of the season.
Every Buccaneers replay televised on FOX Sports Sun will also be available on FOX Sports GO, the live streaming platform that showcases all of the Sinclair Regional Sports Networks' events and studio programming through pay-TV providers.
The agreement marks the first time in team history that Buccaneers games will be re-aired for viewings in Tampa and Orlando and come at a time when interest in the team is at unprecedented levels. The team's nationally televised season opener in New Orleans on September 13 was the highest rated NFL opening weekend game since 2016 and was the most watched show on FOX this year since Super Bowl LIV.
ABOUT THE TAMPA BAY BUCCANEERS
The Tampa Bay Buccaneers are in their 44th year as members of the National Football League and compete in the National Football Conference's South Division. They were purchased by the late Malcolm Glazer in 1995 and are currently owned by the Glazer Family. Established in 1976, the Buccaneers have totaled six division championships, one conference championship and one Super Bowl Championship. The Buccaneers are also very active in the community, with the Tampa Bay Buccaneers Foundation and the Glazer Family Foundation. For more information, visit www.buccaneers.com.
ABOUT FOX SPORTS FLORIDA / FOX SPORTS SUN
FOX Sports Florida and FOX Sports Sun are the regional television homes of the Orlando Magic, Tampa Bay Rays, Miami Heat, Miami Marlins, Tampa Bay Lightning and the Florida Panthers. The Sinclair Regional Sports Networks have been fixtures in the homes of sports fans throughout the Sunshine State for over 30 years. Today, the networks combine to produce more than 700 live sporting events and over 300 studio based and original programs year round. FOX Sports Florida and FOX Sports Sun are committed to making a positive impact in the communities we serve by engaging our audiences and providing award-winning TV and digital coverage of Florida's hometown sports teams. For more information, channel listings and how you can get involved with FOX Sports Florida / FOX Sports Sun, visit www.foxsportsflorida.com.