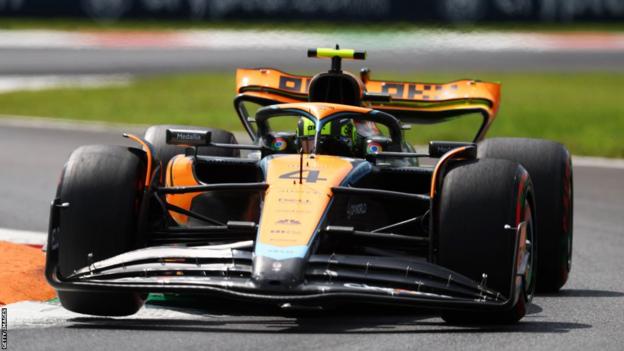 Red Bull's Max Verstappen got his quest for a record-breaking 10th consecutive victory off to a good start at the Italian Grand Prix.
The championship leader set the pace in first practice at the Monza circuit by 0.046 seconds from Ferrari's Carlos Sainz.
Their team-mates Sergio Perez and Charles Leclerc were third and fourth.
Mercedes driver George Russell and Aston Martin's Fernando Alonso completed the top six.
Alonso was the only driver in the top six to run the medium tyres; everyone else was on the hard compound.
McLaren's Lando Norris, whose best time was set on the soft tyre, was seventh fastest, ahead of Mercedes driver Lewis Hamilton, Alpha Tauri's Yuki Tsunoda and Williams driver Alex Albon.
Williams were one of the two teams along with Ferrari tipped by Alonso to potentially lead the pack this weekend behind dominant Red Bull, who have won every race so far this season.
Alonso said: "Two teams, [according to] our numbers, will stand out here. One is Williams with the top speed that they've show through the season, and the other one will be Ferrari because, like in Canada, it's long straights, short corners, chicanes – anything like that, they are super fast.
"So those two teams will be, I think, the biggest challenge for us in terms of competitiveness and they could fight for the podium between them."
Perez was 0.177 secs off the pace, and 0.132secs ahead of Leclerc.
Verstappen looked as imperious as ever as he started his work to dial in his Red Bull to the fastest circuit on the calendar, quickest from the moment he took to the track.
Last weekend in the Netherlands, the Dutchman equalled the record of nine straight F1 victories set by Sebastian Vettel in 2013 and he is strong favourite to win again on Sunday. Verstappen has won 11 of the 13 races this season, and Perez the other two.
It was a generally uneventful session but it was a difficult start to the weekend for Alfa Romeo, the Sauber team in their last Italian GP running under the name of the historic Italian car marque.
Both Valtteri Bottas and Zhou Guanyu had a delayed beginning to the session when the cars had issues with their anti-stall system.
Once out on track, Bottas complained that the car was "undriveable" as a result of aerodynamic stall, while Zhou complained of high-speed bouncing. After set-up changes, they returned to the track and Bottas said the car felt improved.
He ended up 15th fastest, with Zhou 20th and last.