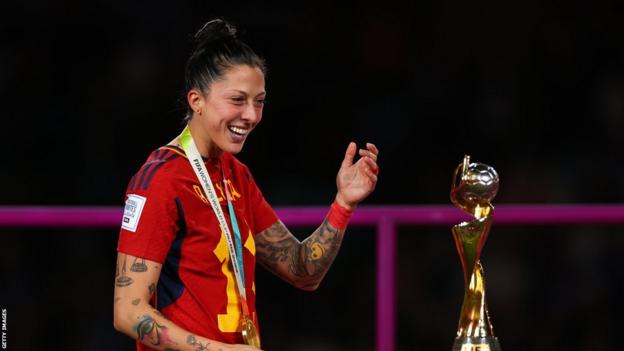 Jenni Hermoso said she "received threats" amid the controversy of Luis Rubiales kissing her on the lips during the World Cup trophy presentation.
The kiss, which Hermoso says was not consensual, occurred after the Spain forward helped her country beat England in the final in August.
The incident sparked outcry and Rubiales eventually resigned as Spanish football federation (RFEF) president.
"These weeks have been very difficult," Hermoso told GQ magazine in Spain.
"Having to tell it over and over again was hurting me a lot. But I know I had to let it go somehow.
"I continue working on it with the help of my psychologist, who I have been with for many years.
"For me, mental health is as important as daily training and the hours I have to sleep to be able to go out on the field. Thanks to her I feel strong and I'm not shattered or thinking about not wanting to play football anymore. I have not lost my enthusiasm."
Rubiales was banned from going within 200 metres of Hermoso after she filed a legal complaint.
At a court case in Madrid, the former federation president denied sexually assaulting and coercing Hermoso.
Hermoso added: "I've had to assume the consequences of an act that I did not provoke, that I had not chosen or premeditated.
"I have received threats, and that is something you never get used to."
Spain's World Cup-winning manager Jorge Vilda was sacked in September and is being investigated as part of the criminal case against Rubiales. He has since been appointed manager of the Morocco women's national team.
More to follow.