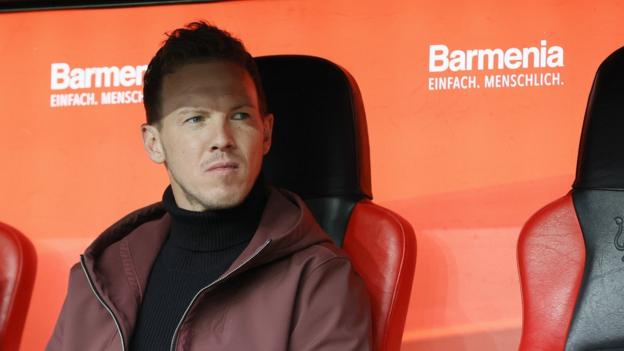 Former Bayern Munich boss Julian Nagelsmann will not be the next manager of Tottenham, BBC Sport understands.
Spurs, who are sixth in the Premier League, have been without a permanent manager since Antonio Conte was sacked in March.
Nagelsmann, 35, who was sacked by Bundesliga champions Bayern in March, has been linked with the vacancy.
However, there have been no talks and Spurs are not considering him for the role.
Spurs continue to search for a permanent replacement for Conte after interim manager Cristian Stellini was sacked in April and replaced by Ryan Mason.
According to journalist Guillem Balague, Brighton manager Roberto de Zerbi has been approached by Tottenham and some reports linked Burnley manager and former Manchester City defender Vincent Kompany with the vacant role.
Nagelsmann, who was sacked by Bayern on 24 March after a run of five wins from 10 league, has also been linked with Chelsea, who remain without a permanent manager since Graham Potter was sacked in April.
Nagelsmann is recognised as one of the game's most promising managerial talents, having taking charge of Hoffenheim aged 28 before moving to RB Lepizig, leading the club to the Champions League semi-finals.
He then joined Bayern in 2021 and won the league title in his first season alongside two German Supercups.
Former Chelsea boss Thomas Tuchel replaced Nagelsmann as Bayern manager.
'Not entirely clear why Tottenham wouldn't want Nagelsmann' – analysis
Simon Stone, BBC Sport
Nagelsmann has been linked with the Tottenham job so often, and the rumours around apparent discussions were getting so strong, the club felt they had to do something to correct them or risk looking like they had missed out on someone they weren't actually chasing.
Given the general chaos around the club at the moment, it is an additional narrative they are keen to avoid.
It is not entirely clear why Tottenham wouldn't want Nagelsmann and the answer may only become clear when they appoint Antonio Conte's permanent successor.
Many feel the 35-year-old was unfortunate to be sacked by Bayern Munich and he built up an impressive body of work before that, enhancing his status as one of the most progressive coaches in the game.
It could be that chairman Daniel Levy wants to sort out the director of football gap in his management team first, so that individual has a significant say in who follows Conte.
Equally, the more mischievous might argue Tottenham are pulling away from a candidate they have established didn't want to join them.
So, for now, Ryan Mason continues in the role without the spectre of Nagelsmann hanging over him, unsure of the identity of the coach he is trying to secure European football for next season.