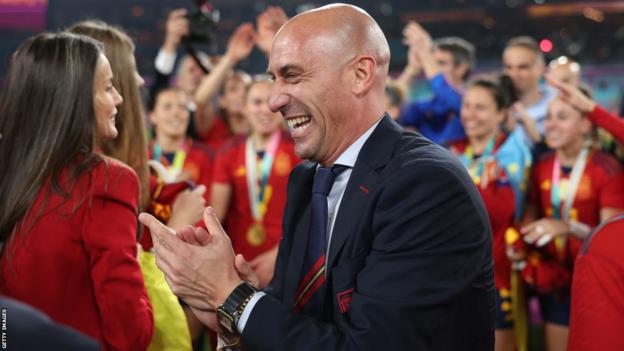 Former Spanish Football Federation president Luis Rubiales will appear in a Madrid court on Friday over his kiss of Spain forward Jenni Hermoso.
Rubiales has been summoned by a high court judge to respond to accusations of sexual assault and coercion.
He will appear before a magistrate at 12:00 local time (11:00 BST).
Hermoso, 33, said the kiss was not consensual, while Rubiales has claimed it was "mutual" and "consensual".
Rubiales quit as Spanish FA president on Sunday as a result of the controversy, and has also resigned from his position as vice-president of Uefa's executive committee.
Hermoso's complaint was one of sexual assault but last week prosecutor Marta Durantez Gil added an allegation of coercion after the forward revealed that some of her relatives had been pressured by Rubiales and his "professional entourage" to say she "justified and approved what happened".
On Monday, Judge Francisco de Jorge of the National Court accepted the complaint and assigned a magistrate to investigate the case.
After completing an investigation the magistrate will then either make a recommendation for the case to go to trial or be dismissed.
Jorge also requested video footage of the incident from Spain's public broadcaster RTVE, plus videos of the team's celebrations published online by Spanish newspapers El Pais, AS and La Vanguardia, be submitted as evidence.
The fallout from the kiss has engulfed Spanish football in recent weeks and overshadowed Spain's World Cup win, with Rubiales ignoring repeated calls to resign before eventually quitting on Sunday.
The charge of sexual assault can carry a punishment ranging from a fine to four years in prison under Spanish law.
"I have faith in the truth and I will do everything in my power so that it prevails," Rubiales wrote in an open letter on Sunday.
Pachuca player Hermoso released a long statement on social media on 25 August saying the kiss was not "consensual".
"I feel the need to report this incident because I believe no person, in any work, sports or social setting should be a victim of these types of non-consensual behaviours. I felt vulnerable and a victim of an impulsive-driven, sexist, out-of-place act, without any consent on my part," she continued.
"Quite simply, I was not respected."