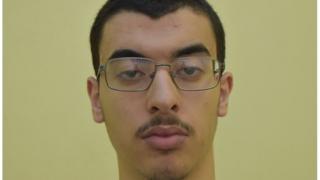 The brother of Manchester Arena bomber Salman Abedi has refused to leave his cell for his sentencing hearing.
Hashem Abedi was convicted of murdering 22 people in the 2017 Manchester terror attack in March.
The Old Bailey heard the 23-year-old helped his brother to plan the "sudden and lethal" blast in which hundreds of people were injured.
A two-day sentencing hearing is under way but Abedi has refused to enter the courtroom.
Mr Justice Jeremy Baker said: "I have no power to direct that force be used to compel him to come into court."
Manchester-born Abedi, who was in Libya when his brother detonated the explosive, had denied helping to plan the attack at the end of an Ariana Grande concert on 22 May 2017.
At his trial, jurors were told how the brothers worked together to source materials used in the bombing.
On 17 March, he was found guilty of 22 counts of murder, one count of attempted murder – encompassing the injured survivors – and conspiring to cause explosions.
Abedi would have been eligible for a whole-life sentence had he been over the age of 21 at the time of the bombing, the court has heard.
Mr Justice Jeremy Baker said it was a "matter for Parliament who pass legislation which prevents the court of making a whole-life order in the circumstances of this case".
The Old Bailey was told some of the victim impact and witness statements should not be read in open court, but instead be considered by the judge in private.
Survivor Claire Booth, who was also injured in the attack, broke down in tears as she read her statement in memory of her sister Kelly Brewster, 32.
"Since 22 May 2017 our family has not been the same – all our hearts are broken," she said.
"It seems cruel that her life has been cut short.
"My dad has not been able to walk his daughter down the aisle, my mum can't take her shopping for a wedding dress."
'Horrendous act of cowardice'
Caroline Curry held aloft a photo of her son Liam Curry, 19, who died with his girlfriend Chloe Rutherford.
"You took from me something more precious than gold, a beautiful boy, inside and out," she said.
Figen Murray, mother of 29-year-old Martyn Hett, said she is unable to go to bed until after 22:31 BST, the time the bomb went off.
She said: "I still cannot reconcile that I was fast asleep while my son lay dead on the floor, and I am ashamed about that."
Lisa Rutherford added "this horrendous act of cowardice changed our lives forever", adding that losing their daughter is a "pain that never leaves us".
Why not follow BBC North West on Facebook, Twitter and Instagram? You can also send story ideas to northwest.newsonline@bbc.co.uk