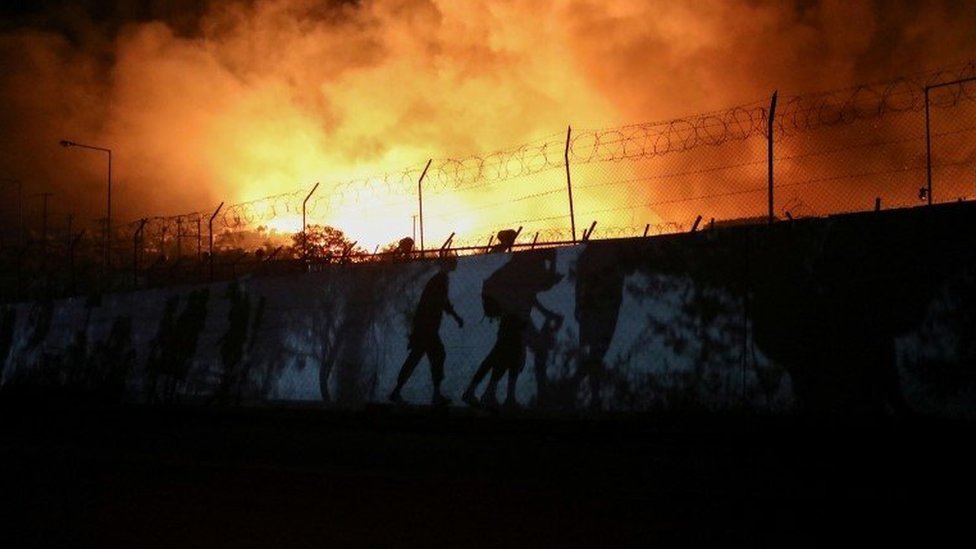 Fire has destroyed Greece's largest migrant camp, the overcrowded Moria facility on the island of Lesbos.
About 25 firefighters with 10 engines battled the flames as migrants were evacuated. Some suffered injuries as a result of exposure to smoke.
As yet the cause of the blaze is unclear. Strong winds have fanned two wildfires elsewhere on the island.
Moria is home to nearly 13,000 people, more than four times the number it can officially hold.
Lesbos deputy governor Aris Hatzikomninos reportedly told local radio that the camp had been "completely destroyed".
Greek Prime Minister Kyriakos Mitsotakis will hold an emergency meeting on the fire at 09:30 local time (06:30 GMT).
What happened at Moria?
One local resident told the BBC that almost the whole camp had been on fire.
"Now with the first light I can see that there is a few tents that make it, they are okay, but the rest of the camp, as I can see from this distance, is burnt out," Thanasis Voulgarakis said.
The camp was placed under quarantine last week after a migrant tested positive for the coronavirus. There are now 35 confirmed cases.
Greek news agency ANA said the fires had broken out after some of the 35 had refused to move into isolation with their families, but this is unconfirmed.
A government spokesman told state television channel ERT that reports of arson were under investigation and a state of emergency would be declared across the island.
Police have blocked migrants fleeing the fire from heading to the port town of Mytilene.
"It is a very difficult situation because some of those who are outside will include people who are positive [for coronavirus]," the town's mayor reportedly told local radio.
The refugee support group Stand by Me Lesvos said it had heard reports of some locals attacking and preventing migrants from passing through a nearby village.
"The disaster at Moria is total," Greek migration ministry secretary Manos Logothetis told ANA news agency, and announced he was heading to the site.