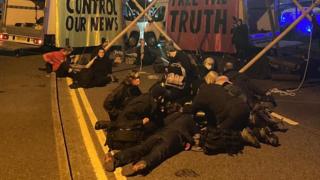 Extinction Rebellion (XR) activists have delayed the distribution of several national newspapers, after blocking access to three printing presses owned by Rupert Murdoch.
More than 100 protesters targeted Newsprinters presses in Broxbourne, Hertfordshire, Knowsley, Merseyside, and near Motherwell, North Lanarkshire.
Newsagents say some of the papers – which XR accuse of failing to report on climate change – are arriving late.
Thirteen people have been arrested.
The Sun tweeted saying copies of the paper would be late arriving at newsagents, adding it was an "attack on all the free press".
The presses print the Rupert Murdoch-owned News Corp titles including the Sun, the Times, the Sun on Sunday, the Sunday Times, and the Scottish Sun. They also print the Daily Telegraph and Sunday Telegraph, the Daily Mail and Mail on Sunday, and the London Evening Standard.
XR used vehicles along with individual protesters chaining themselves to structures to block roads to the presses.
Vans were covered with banners including "Free the truth" and "Refugees are welcome here".
Newsprinters also condemned the protests as an "attack on all of the free press", which it said had affected workers going about their jobs and others such as newsagents who faced "financial penalty".
"Thanks to other industry partners, printing was transferred to other sites," it said.
Hertfordshire Police said officers were called to Great Eastern Road near the Broxbourne plant at about 22:00 BST, where they found about 100 protesters who had "secured themselves to structures and one another".
'Polluting national debate'
By 06:00 BST, 13 arrests had been made with police expecting more to follow, but delivery lorries had still been unable to leave the site to distribute papers.
Merseyside Police tweeted on Saturday morning officers were still at the Knowsley plant.
XR has accused the newspapers and their owners of "failure to report on the climate and ecological emergency" and "polluting national debate" on dozens of social issues.
The group has planned 10 days of action and demanded the government declare a climate and ecological emergency.
On Thursday, more than 300 people were arrested during protests in central London.
Meanwhile, climate change protesters have been warned they risk large fines if they fail to comply with coronavirus rules banning gatherings of more than 30 people.
A procession of activists that set off from Brighton on foot a week ago is due to march the final stretch to Parliament later.
The Met Police said risk assessments of the march in Westminster "did not meet the required standard" and have banned XR from taking a 20ft model boat named after teenage activist Greta Thunberg to the streets of Westminster.