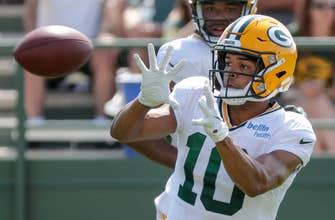 The Green Bay Packers filled two open spots on their 53-man roster Saturday by signing tight end John Lovett and wide receiver Darrius Shepherd off the practice squad.
Lovett, who was claimed off waivers from Kansas City in August, has appeared in two games this season as a practice squad call-up. He spent the 2019 season on the Chiefs' injured reserve list.
An undrafted free agent out of North Dakota State, Shepherd played in six games for the Packers in 2019, catching one pass for one yard and returning six kicks for a 16.3 average while losing nine yards on two punt returns.
Green Bay might need the additional receiver help in Sunday night's game in New Orleans as Davante Adams is doubtful to play.
In addition, the Packers elevated defensive lineman Billy Winn from the practice squad for the matchup vs. the Saints. Winn, a sixth-round pick of Cleveland in 2012, was signed to the practice squad Sept. 16. He's has 68 games of NFL experience but hasn't played since 2016 due to injuries.
Teams can call up two players a week from the practice squad then return them the following day. Each player can be called up twice before having to be exposed to waivers, which would occur the third time they were sent back.