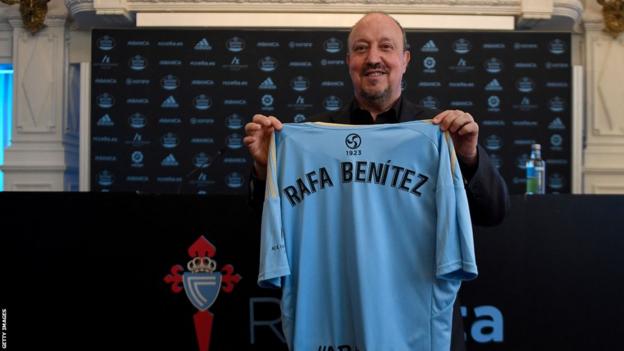 It was supposed to be a triumphant homecoming. The start of something special for both club and manager.
The team from the north-western corner of Spain are marooned in the relegation zone with just one win from 13 games – and Benitez's future is the subject of repeated speculation.
This weekend he travels to Valencia, the club where his glittering coaching career was ignited two decades ago with two La Liga titles in three seasons.
The contrast between his achievement at the Mestalla and the current state of his Celta team could hardly be greater, and right now the 63-year-old's hopes of proving that he should still be regarded as a top-class coach are backfiring.
High expectations, early disappointment
Celta have gone through a long list of coaches in recent years, all of them unable to turn the team from perennial relegation strugglers into challengers for European football.
This summer, the Galician club decided to raise the stakes and set their sights on Benitez, who last worked in Spain with a brief spell in charge of Real Madrid in 2015.
Sensing that Celta were a notch below the status of clubs to which he was accustomed, Benitez took some convincing. But eventually, with the help of a higher salary than their usual rate of pay, Celta persuaded him to agree a three-year contract.
The timing was significant, with Celta in their centenary season and opening a new stand. After years of fighting against the drop (last season they needed a final-day victory over champions Barcelona to stay up), the club were determined to reach the next level. An experienced, elite coach was required, and Benitez was their man.
But cracks appeared immediately. A deflating 2-0 home defeat by Osasuna was accompanied by uncertainty over the future of star player Gabri Veiga. The midfielder was eventually sold in late August to Saudi club Al-Ahli, leaving Benitez with insufficient time to suitably reinvest.
More disappointments soon came – 1-0 home losses against Real Madrid and Mallorca were followed by heartache at Barcelona, when a 2-0 lead was squandered by conceding three goals in eight minutes.
After a 2-1 loss at lowly Las Palmas, the growing strain on Benitez's nerves really started to show at the next home game, against Getafe.
The visitors played the last hour with 10 men after Domingos Duarte was sent off, but labouring Celta still had to settle for a 2-2 draw. On the final whistle, Benitez preferred to blame Getafe's cynical/clever 'game management' tactics rather than his own team's shortcomings, ranting at visiting defender Damian Suarez: "You're going to destroy football like this."
But things were about to get worse.
Divine inspiration and the laws of physics
Celta emerged from the October international break by suffering a 3-0 pummelling at home to Atletico Madrid, with Benitez complaining that an early red card for goalkeeper Ivan Villar after a last-man foul on Alvaro Morata was the game's decisive moment.
The following weekend he was even angrier. With the game at Girona goalless, Celta midfielder Luca de la Torre slotted home, only for a VAR review to disallow the goal for a supposed foul on home keeper Paulo Gazzaniga.
"I don't understand at all," bemoaned Benitez, whose mood worsened when Girona subsequently snatching an injury-time winner. "I don't know what they saw. We will analyse it to see if divine inspiration gives us an explanation."
A week later, Celta were seething again. A home game against Sevilla was tied at 1-1 in stoppage time when Celta were awarded a penalty for a foul by Jesus Navas on Tasos Douvikas. Lo and behold, the decision was then overturned after a VAR review concluded there was no foul after all.
Star striker Iago Aspas exploded, kicking over the VAR monitor on the sidelines. Benitez resorted to sarcasm, offering an idea to improve VAR by quipping: "We have to bring in a physicist to tell us 'Force is equal to mass multiplied by acceleration, and we have discovered how much is required for a professional footballer to fall over'."
The luckless pattern continued in Celta's last game, away to Athletic Bilbao before the international break. Benitez's men led 2-1 and 3-2, but Aspas missed a penalty and the hosts grabbed an injury time 4-3 winner through, you guessed it, a penalty awarded on VAR review.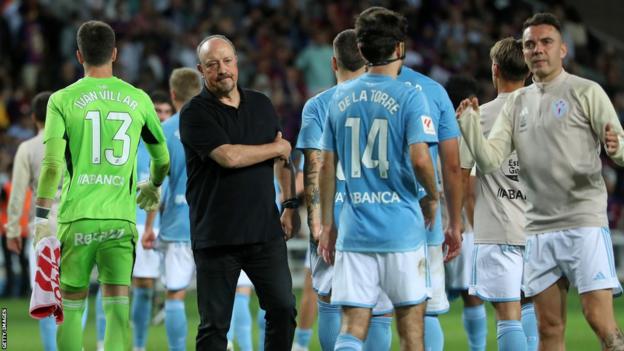 Out of luck, out of time?
The idea that Celta are victims of bad luck is a handy narrative for Benitez, but it's only partially true.
You don't fail to win 12 games out of 13 solely because of a few dodgy refereeing decisions, and the truth is that Celta have been poor for much of the season, especially defensively.
Beset by needless errors and below par individual performances, the stats suggest Celta aren't near the bottom by accident: they have the fourth lowest average possession in La Liga, the fourth worst shot to goal conversion rate, and have made fewer tackles than any other team.
A specific concern is Celta's tendency to collapse in the final stages. They have conceded 10 goals in the last 15 minutes, a lack of durability that reflects poorly on Benitez's ability to develop a resilient group.
There has also been tactical uncertainty. The season started with a flat back four, which changed into a back five at half-time of the second game of the season, at Real Sociedad. When that approach led to an improvement, Benitez stuck with it for a while… but then reverted to a back four just six weeks later.
Nevertheless, he has avoided the sack, with Celta reluctant to make a quick change after investing so much – financially and emotionally – to recruit him. And significantly, the fact he signed a three-year contract on a relatively high salary means a payoff would be prohibitively expensive.
Results must soon improve, though, and it's thought that Benitez has until the Christmas break to turn things around.
There would be no better place than Valencia, the scene of his greatest early triumphs, to start that process.