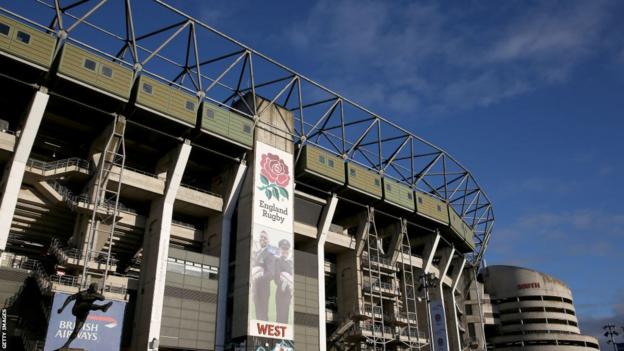 Rugby chiefs are to introduce a reduction in tackle height from 1 July 2023 in the community game.
Players will only be allowed to tackle from waist height down, says the Rugby Football Union council.
It has been introduced to improve player safety.
"Evidence from our own research and from around the world clearly shows that lowering the tackle height will reduce head impact exposure," said RFU president Nigel Gillingham.
"[It will also reduce] the risk of concussion."
The community game covers clubs, schools, colleges and universities and the change will impact age-grade and adult levels.
"Programmes to support players, coaches and match officials, including detailed law application guidelines are being developed to ensure players, match officials and volunteers will be ready for next season." said the RFU.
The issue of head injury and concussion has been a discussion point in both the amateur and elite games.
The RFU added it will continue to work to "reduce head impacts in contact training in the community and elite games" and they will be supportive of any law changes proposed by World Rugby in "matches at the elite level that will further reduce head impact exposure".
The news comes on the same day more than 55 amateur players claimed playing the game had led to brain injuries.
Lawyers representing the group say they have written to World Rugby, the Welsh Rugby Union and RFU outlining their claims before a potential lawsuit.
'This will change the game as we know it' – analysis
By Chris Jones, BBC rugby union correspondent
This is a seismic move from the RFU which will affect thousands of rugby union players and will have a profound impact in the short term.
In a week a number of former amateur players have declared legal action against the governing bodies, the RFU have made one of their biggest law changes in history in a bid to protect players and – in a nutshell – try and alter the complexion of the sport; from a contact and collision game, to an evasion one.
The adjustment will be extremely difficult for amateur players and referees, while there are numerous potential unintended consequences.
However the RFU say they have mounting scientific evidence to justify it, and point to successful trials around the world.
Given the dementia crisis gripping rugby union, any attempt – however drastic – to improve safety must be considered.
But make no mistake, for amateur players and spectators across the country, this will change the game as we know it.