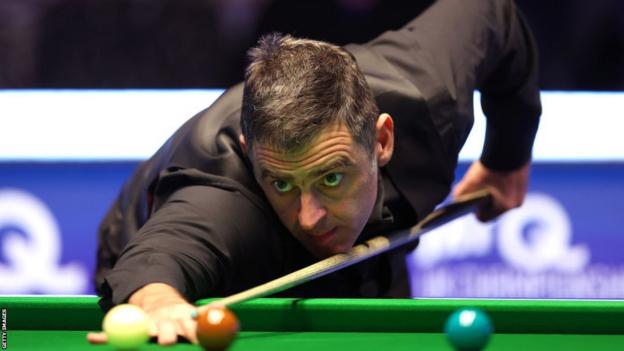 Ronnie O'Sullivan says he "can't be bothered any more" with snooker despite securing a UK Championship quarter-final place.
The seven-time UK champion fought back from 2-0 down to beat Robert Milkins 6-5 in York.
But the frustrated world number one was far from happy with his performance.
"I had to grind out another win for my sins. It's a crazy game, it still torments me after 30 years," O'Sullivan told BBC Sport.
"I thought he deserved to win. I couldn't feel anything, I was just all over the show. I haven't got a clue any more, I don't understand how this game works.
"I gave up a long time ago, I just keep turning up and stinking out gaffs. I stunk it out today and I'll probably stink it out tomorrow."
O'Sullivan, 47, is facing disciplinary action for publicly criticising the World Snooker Tour over its stance on five players appearing in an exhibition event in Macau earlier this season.
He has threatened to quit snooker over the row.
Milkins won a scrappy opener and compiled a 63 break for a 2-0 lead, but O'Sullivan rallied with runs of 142, 86, 83, 53 and 49 to move within one frame of victory at 5-3.
Breaks of 120 and 91 saw Milkins take the match the distance, but O'Sullivan finished the job after his opponent squandered two excellent chances to win the decider.
"Mentally it's hard for me. I'm not going to kill myself out there, but I still want to play," added O'Sullivan, who has never lost to Milkins in a ranking tournament.
"I just can't be bothered any more. I just don't want it bad enough, that's the problem.
"I'm having to dig deep, whereas when I was younger I didn't have to did deep and I was so hungry.
"Now I don't really care any more. Competitive sport is really hard, it's not always about how good you are, it's about how much you want it."
Milkins told BBC Sport: "I just played a really poor decider, I could have won that.
"But I'm chuffed I've just stuck in there because I always roll over against Ronnie. I put a fight on, but I'm really disappointed."
Three-time UK winner John Higgins slipped to a "very poor" 6-3 defeat at the hands of China's Zhou Yuelong, who now plays O'Sullivan on Friday.
"Ronnie's my idol, but I believe I can beat him," said Zhou.