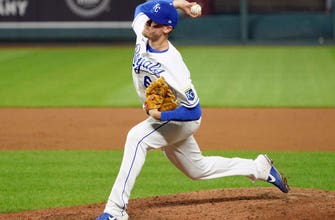 On the day it was announced that Royals outfielder Alex Gordon would be retiring after a 14-year career in Kansas City, the team announced couple of immediate roster moves.
The team recalled left-handed reliever Richard Lovelady from its alternate training site and optioned right-handed reliever Scott Blewett.
Neither pitcher has been a frequent contributor to the Royals' staff this season. Blewett has pitched in two games, fashioning a 6.00 ERA over three innings. Lovelady has made one appearance, allowing a run in his sole inning pitched.