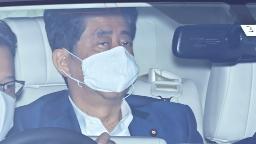 "Even though there is one year to go in my tenure and there are challenges to be met, I have decided to stand down as prime minister," said Abe at a press conference in Tokyo on Friday, adding that he would like to apologize to the people of Japan for being unable to fulfill his duties.
"For almost eight years I controlled my chronic disease, however, this year in June I had a regular check-up and there was a sign of the disease," Abe said. "I made a judgment that I should not continue my job as prime minister" said Abe. "I need to fight against the disease and need to be treated."
Markets reacted negatively to the announcement. Japan's benchmark Nikkei index closed down 1.4% Friday after the news broke. It initially tumbled more than 2% before paring losses. The Japanese yen, a traditional safe currency haven, rose 0.3% against the US dollar.
Under Abe, his right-leaning Liberal Democratic Party (LDP) has also seen major success, benefiting from the fracturing of its long-term rival Democratic Party, which split in two in 2017. Abe leaves the LDP in control of both houses of parliament, with a large majority in the lower House of Representatives.
That success should guarantee an LDP successor to Abe. Japan is not a presidential system, instead the country's leader is chosen by parliamentarians, so the next LDP leader, whoever that is, should have an easy path to becoming prime minister.
Abenomics
"Japan is no longer the Japan of the past," Abe said in January 2020. "We have succeeded in completely breaking through the 'wall of resignation'."
A major factor that has dogged Abe during his time in office was the country's rapidly aging population.
Mixed results on diplomacy
On the diplomatic front, too, Abe's achievements were mixed. He cultivated strong ties with Washington — Tokyo's traditional ally — and attempted to build a personal relationship with United States President Donald Trump, traveling to New York to meet him while Barack Obama was still in office.
The legacy of World War II, during which the Imperial Japanese army invaded multiple neighbors and committed war crimes and atrocities, has long poisoned relations in East Asia, with suspicion of Japan remaining strong in China and the Koreas.
Olympic success and setback
One of Abe's major domestic achievements was securing the 2020 Tokyo Olympics, a success that was ultimately undone by the coronavirus, which forced the competition to be postponed to 2021.
An initial unwillingness to put the Games off was partly credited for Japan's lackluster response to the coronavirus pandemic, which hit the country early in 2020 and continues to cause major issues, with much of the aged population particularly at risk.
"Like the flowers of the plum tree blooming proudly in spring after the cold winter, we wish the Japanese people to bloom like individual flowers with the (promise of the) future. With such a wish for Japan, we decided upon 'Reiwa'," Abe said on announcing the new era.
Personal life
He studied politics at Tokyo's Seiki University and the University of Southern California, but initially entered business, taking a position with Kobe Steel in 1979.
Three years later however, he became an assistant to the Minister for Foreign Affairs, and in 1993 Abe was first elected to the House of Representatives, aged 38. He was reelected seven times, and held a number of cabinet positions throughout the 2000s.
In 2003, Abe became secretary general of the LDP, and four years later the party's president and prime minister of Japan.
His first term was marred by controversies and worsening health, and he stepped down as party leader and prime minister in 2007, eventually returning to both positions in 2012.
Kaori Enjoji reported from Tokyo. James Griffiths reported from Hong Kong.