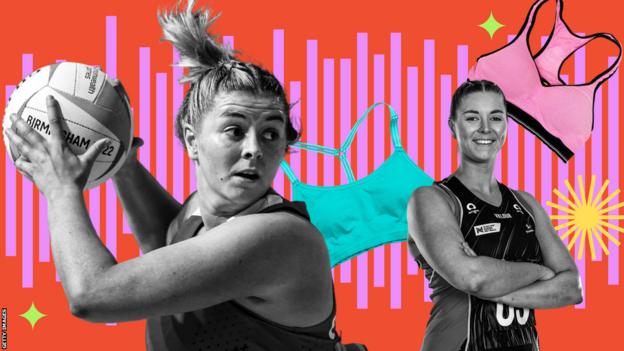 There is an essential piece of kit in England netballer Eleanor Cardwell's bag that at one time was also a great source of pain – the sports bra.
Cardwell was "obsessed" with PE at school, but once her breasts developed it was harder and harder to enjoy those 45 minutes of freedom.
"When I hit puberty I got larger breasts than everyone else," Cardwell told Women's Sport Matters – a Sports Desk podcast special produced with the Open University.
"I was going into PE in the worst sports bra, having to hold my chest down and try to catch the ball with one hand because if I didn't I was in pain.
"If I forgot my sports bra, I would just be wearing a normal bra. That is just not OK. I was incredibly uncomfortable the whole time."
To make matters worse, Cardwell – like so many other young girls – did not feel comfortable getting changed into her sports bra at school, so would wear it all day in preparation.
"The incorrectly fitted sports bra – the band would be rubbing," she explains.
"I'd be getting blisters and chafing under the band. I can imagine why a lot of girls would give up sport because why would you want to be that uncomfortable all day just for a 45-minute PE lesson?"
'Bad sports bras can damage your breasts'
As Cardwell predicts, many do leave sport behind altogether.
Women in Sport research released in March 2022 found 43% of girls who once considered themselves to be sporty disengage from sport after primary school.
A series of complicated factors lie behind that statistic, ranging from fear of judgement to avoiding exercise during their period, and Cardwell hopes breaking taboos around sports bras will help improve the situation.
Cardwell's sports bras were ruined in the laundry during the 2022 Commonwealth Games. It was the perfect opportunity to start again and, for the first time in her life, she got fitted for a sports bra aged 28.
That is not unusual. According to Open University academic Dr Jess Pinchbeck, 80% of women wear an ill-fitted bra and over 40% of women do not wear a sports bra when they are exercising.
"Breasts are made up of fatty tissue and there's not much internal support within the breasts," says Dr Pinchbeck.
"When we're playing sport, our breasts are moving all the time and this constant movement beyond the natural range can actually stretch the skin and damage the breasts.
"We know a lot of larger-breasted women don't take part in intense sport because of the breast movement."
As well as damage to the breasts, if they move a lot during exercise it actually means you have to work harder.
Portsmouth University's Research Group in Breast Health found running without support could reduce stride length by 4cm, which over the course of a marathon means a poorly fitting sports bra costs women an extra mile.
Dr Pinchbeck adds bad breast support can impact your breathing and increase the forces when you hit the ground, leading to more lower-limb injuries.
She explains the psychological impact too: "If you've got a poorly fitted sports bra and you're constantly pulling the straps up because they're falling down, that detracts from your focus on performance."
'Women feel more empowered to talk about it'
Once Cardwell saw the transformational impact of a well-fitting sports bra, she wanted to share it with the world.
Now she reviews bras on her Instagram page, and has such a following that some fans have taken to lifting their tops up when they meet her after games to share their latest finds.
"It is amazing that they feel empowered to do that because they have seen me do that on social media," Cardwell says.
"[There are] 16-year-old girls having this conversation with me. They would have never had the confidence before to ask me that question."
Cardwell wants to see more education in schools about the importance of finding the right sports bra, but in the immediate future her ambition is slightly closer to home.
"In my netball team I want everyone to get fitted in a sports bra," she says.
"I know a lot of them have never been measured."
Sports Desk: Women's Sport Matters is a special mini-series produced in partnership with the Open University. The four episodes cover periods; sportswear; the psychology of injuries and exercise habits. You can listen to them here.