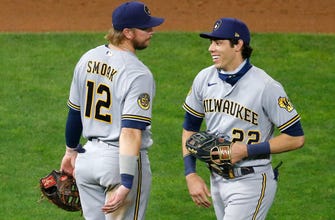 The Milwaukee Brewers have played 30 games and are now officially halfway through the 2020 MLB regular season.
Milwaukee's schedule certainly has taken some twists and turns along the way, which is perfectly on brand for the year 2020. And while the Brewers' schedule has been totally thrown for a loop, the Crew have mainly hovered around the .500 mark all season. No fanbase is really ever thrilled about losing as many games as you win, but this team has shown it can heat things up in September, so maybe 2020 has another run in store.
Playoffs are still possible
The Brewers' playoff hopes are still very alive — even if it has not felt like that at points so far in 2020. Milwaukee is 13-17, which, yeah, isn't good. But don't forget eight teams make the playoffs this season in the rejiggered 2020 MLB postseason. Besides the division winners, each second-place team will be in — and the Brewers are just two games behind St. Louis (which has also played eight fewer games). The current No. 8 team in the NL playoff hunt (the team with the second-best record outside of the top two in each division) is Philadelphia, which is 12-14. More good news for the Brewers is the schedule also up a bit, with a four-game series against the Pittsburgh Pirates up next closely followed with games against the Detroit Tigers and Kansas City Royals.
Mixed results with newcomers
The Brewers new players have performed in many sorts of ways. Bullpen arms Eric Yardley (2.53 ERA, 1.313 WHIP, 6.8 K/9) and David Phelps (2.25 ERA, 0.667 WHIP, 12.8 K/9) have emerged as key pieces in a very good bullpen. Moreover, highly touted prospect Luis Urias (.286/.362/.357) has played decently since coming up.
Some of the additions have performed at a more mediocre level, with Avisail Garcia and Eric Sogard playing good defense while hitting so-so and Justin Smoak providing more power after a really tough start. But many of the signings have been unsatisfactory. Omar Narvaez has not been able to repeat his 2019 numbers with the Seattle Mariners, Josh Lindblom has struggled since returning from South Korea and Ryon Healy, Eric Lauer, Logan Morrison and Brock Holt have either been waived or sent down to the alternate training site in Appleton.
The offense has been … offensive
A lot has been made of Milwaukee's inability to score early in games. But the Brewers have had difficulty scoring, period. The Brewers are averaging 3.73 runs per game – only Texas (3.60) has scored fewer. As a team Milwaukee is slashing .211/.294/.363. The Brewers are second worst in MLB in average, third worst in OBP, fourth worst in slugging and with the third-lowest OPS (.658). Christian Yelich is out of his early deep slump but still only slashing .190/.320/.448. He is one of two active players with an OPS+ of better than 100 – Jedd Gyorko (114), who has 39 plate appearances, is the other. Ugly doesn't begin to sum it up.
Missing old reliables
Milwaukee has not been the same without Lorenzo Cain and Ryan Braun. Granted, Braun has been in the lineup but much less consistently than normal due to his injury troubles this year, appearing in just 16 games with 14 starts, while Cain opted out of the season because of COVID-19 concerns. Aside from it being difficult to replace Cain's good defense in center field, both players are solid hitters that add more depth to a Brewers lineup that desperately needs it right now.
Haderade
Josh Hader has not allowed one hit and the Brewers are halfway through their season. Let that sink in.
Hader has pitched 9 1/3 innings, facing 34 batters with five walks and no hits. He's hit more batters (1) than opponents have hit him. The long-haired closer is second in the National League with seven saves has recorded an absurd 0.536 WHIP to go with his 13 strikeouts.