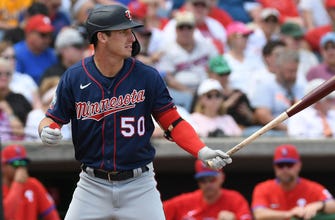 Max Kepler joins a long list of Minnesota Twins players to spend time on the 10-day injured list this summer, as he lands there with a left adductor strain.
To replace him on the roster, Minnesota selected the contract of outfielder Brent Rooker. The Twins also announced utility man Willians Astudillo will serve as the 29th man for the Twins-Tigers doubleheader on Friday.
Rooker, listed as the Twins' No. 12 prospect by MLB.com, will make his major-league debut in Game 1 of Friday's doubleheader, batting seventh and playing left field. Minnesota selected the outfielder with the 35th overall pick in 2017. In three minor-league seasons, Rooker has logged a .267/.357/.505 slash line with 59 doubles, 54 home runs and 178 RBI in 259 contests.
In 2019, Rooker appeared in 65 games with Triple-A Rochester and batted .282 (66-for-234) with 14 dingers and 47 RBI.
Astudillo has yet to appear in a game for the Twins in 2020. His start to the season was delayed in early July when he tested positive for COVID-19. Astudillo recovered and has been at the Twins' alternative training site ever since.
In 87 career MLB contests, Astudillo has registered a .297/.322/.424 slash line with seven homers and 42 RBI. The utility man has collected just seven walks and 11 strikeouts in 301 career plate appearances.
Kepler suffered the injury during the Twins' 8-1 win over Chicago on Wednesday. The 27-year-old is batting .220/.322/.431 with five doubles, seven homers and 18 RBI in 35 contests this season. He's started 32 games in right field and two in center field.