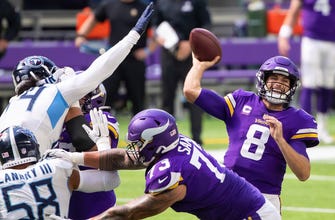 For the first time all season, the Minnesota Vikings showed life on both sides of the ball.
The Vikings' offense scored 30 points. Minnesota took a lead into halftime. Safety Harrison Smith, who'd been rather quiet over the first two weeks of the season, picked off a pass in the red zone. And, hey! Tennessee wasn't able to nab the Vikings in the end zone for a safety.
But in the end, the effort wasn't enough.
Tennessee's 6-foot-3, 247-pound workhorse Derrick Henry plowed through Minnesota's defense for 119 rushing yards and two scores, kicker Stephen Gostkowski drained all six field-goal attempts and the Titans defeated Minnesota 31-30 on Sunday afternoon.
Gostkowski made three kicks of 50+ yards, including the game-winning 55-yarder with 1:48 to play. Quarterback Kirk Cousins and the offense had just under two minutes to put together a game-winning drive, but a bad snap cost the Vikings 14 yards, and eventually, the game.
This is the second time in the Mike Zimmer era that the Vikings have a losing record through three games. It's the first time since 2013 that the Vikings have started 0-3 — yep, Leslie Frazier's final season in Minnesota.
For several moments, though, Minnesota looked like a competent NFL team. Although the loss sinks the Vikings to 0-3 and in last place in the NFC North, it'll keep the #TankForTrevor bandwagon happy for another week.
Here's a recap of Sunday's game (STORY | PHOTOS):
PLAYER OF THE GAME
Minnesota has found itself a new weapon. Justin Jefferson, the 22nd overall pick this spring, caught a career-high seven passes for 175 yards and a touchdown. He's the fourth Vikings rookie receiver to register 170+ receiving yards in a game, joining Sammy White (1976), Randy Moss (1998) and Paul Flatley (1963). Jefferson's first career score was electric. He separated himself with ease from cornerback Johnathan Joseph, cut back inside near the sideline to avoid safety Kenny Vaccaro, and did his signature dance move, the "Griddy," for the final five yards into the end zone. Jefferson is a playmaker.
See you later ✌️@JJettas2

📺: @NFLonCBS pic.twitter.com/sHH64beXKa

— Minnesota Vikings (@Vikings) September 27, 2020
DON'T FORGET ABOUT ME
Speaking of playmakers, running back Dalvin Cook ain't too shabby himself. Cook rushed for a career-high 181 yards and a score on 22 carries — an average of 8.2 yards per rush. He's the first Vikings running back with 180+ rushing yards in a game since Adrian Peterson logged 203 yards against Oakland on Nov. 15, 2015.
HOUSE CALL!@dalvincook takes it 39 yards for the score.

📺: @NFLonCBS pic.twitter.com/J6wp178LbV

— Minnesota Vikings (@Vikings) September 27, 2020
THAT MOMENT
Ok, this is where we recap the Drive From Hell. After Gostkowski's gut punch of a go-ahead 55-yard field goal, Minnesota had 1:48 to construct a drive and get into field-goal range. Instead, it went like this: Roughing the passer (15-yard penalty), incomplete pass, botched snap (-14 yards), incomplete pass and a Hail Mary heave to Adam Thielen on fourth down that was intercepted. Ball game.
Turn out the lights! @amanihooker37

📺: Watch #TENvsMIN on CBS pic.twitter.com/9WhSmj6Xti

— Tennessee Titans (@Titans) September 27, 2020
THIS NUMBER
-5: Minnesota has the second-worst turnover ratio in the NFL at minus-5. Only Carson Wentz and the Philadelphia Eagles have been worse in the turnover category (-7). Cousins' six interceptions and Cook's fumble against the Titans adds up to seven turnovers, compared to just two interceptions forced by the defense (Smith in Week 3 and Eric Wilson against Indianapolis). Oof.
THEY SAID IT
"I thought there were times we played really well on defense, but the big plays — you can't do that. Sometimes guys try to make plays that they shouldn't be trying to make." — head coach Mike Zimmer
"It doesn't matter how many catches or TDs I had, we still lost. We still have some things to fix and things to improve. Next week we need to dial in and focus in and come up with the W." — wide receiver Justin Jefferson
"He had a great game today. Really proud of the way he played, proud of him. Look forward to continuing to build with him moving forward." — quarterback Kirk Cousins on the rookie Jefferson
"We gave up like three explosive plays that I can remember. We've got to limit the explosives obviously, but I felt like everybody was into it. Our energy was high, we were physical today." — linebacker Eric Kendricks
WHAT'S NEXT
It will be a battle between two 0-3 teams when the Vikings go head-to-head against the Houston Texans on Sunday. Houston has lost to three of the top AFC teams — Kansas City, Baltimore and Pittsburgh. The Vikings have won all four of their matchups with the Texans, with their latest victory being a 31-13 victory in 2016.