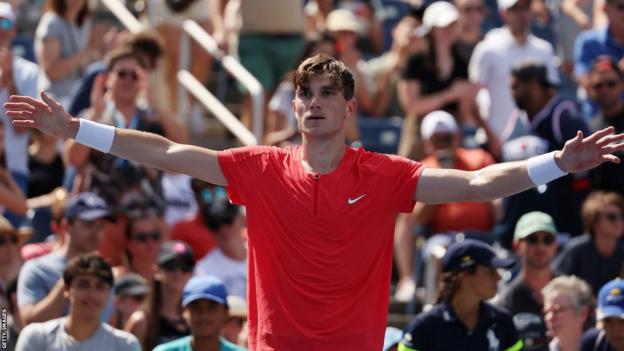 Venue:
Flushing Meadows, New York
Dates:
28 August-10 September
Coverage:
Daily live text and radio commentaries across the BBC Sport website, app, BBC Radio 5 Live and 5 Sports Extra
It is testament to Jack Draper's ability that everyone you ask about the 21-year-old Briton says there is a high bar to his potential.
But there is a caveat which always follows – the extent and speed of his progress all depends on him staying fit.
Draper rapidly climbed the world rankings last year to reach a career-high 38th in January, but his progress since has been stalled by the latest in a long line of injuries.
A shoulder problem even threatened his participation at this US Open, with Draper saying there was a "70-30" chance he would not play the final Grand Slam of the season.
Yet Draper has showed strong resolve to put those fears behind him, with the reward an impressive run to the last 16.
On Monday, he will aim to reach the quarter-finals when he takes on Russian eighth seed Andrey Rublev at about 18:30 BST.
"At the start of the week, there was real concern about my body," said Draper, who has dropped outside the world's top 100 during his lay-off.
"With the year I've had, there was doubt whether I'd be able to play one match.
"But when I am playing, I'm not just happy to be here and be happy to play. I'm a competitor when I get into the matches. I want to win everything."
'Nobody realises how hard it is to come back from injury'
A confident and assured character who does not possess a hint of arrogance, Draper backs himself against any opponent.
Notable victories against top-10 players Stefanos Tsitsipas and Felix Auger-Aliassime helped his sharp rise at the back end of last year.
Draper also took a set off 22-time major champion Rafael Nadal at the Australian Open before retiring with cramping.
Further chances to test himself against the very best have been rare.
The shoulder injury suffered at the French Open derailed Draper's progress again, with the dejected youngster telling the British media he "hated being the guy who is injured a lot".
The muscle tear kept him out until last month but, in just his second event back, he suffered a similar issue which left him a doubt for the US Open.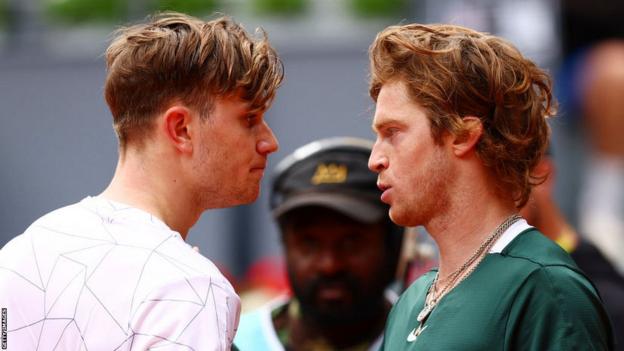 Fellow British player Dan Evans said Draper reaching the last 16 of a major for the first time after so little match action showed what "a class player" he was.
Katie Boulter, who also suffered fitness issues before fighting back to become British number one this year, agreed.
"It is so impressive. I don't think anyone understands how hard it is to come back from an injury," she said.
Draper said he was "very proud" of how his body has held up at Flushing Meadows.
"I've not been able to progress as much in [Grand Slam] tournaments as I'd like," he said.
"Hopefully I can keep going. Andrey is an incredible player and like anyone who you play in the fourth round, he's playing good tennis and feeling good out there."
Leaving home a coping mechanism in 'mentally challenging' year
While Draper is still breaking through at the highest level, he has been well known in British tennis circles for a long time.
Draper's mother Nicky – who he credits as one of his biggest influences – is a coach and former junior champion, while father Roger was the chief executive of the Lawn Tennis Association.
Off the court, Manchester United fan Draper has a keen interest in football and, talking to BBC Sport in January, said he is happiest hanging out at home with family, friends and his labradoodle Aussie.
He described himself as a "big family guy" who loves being a "normal 21-year-old" when he is back in the UK.
In March, Draper moved in to an apartment in London with fellow British player Paul Jubb.
Developing independence and learning how to do household chores has helped provide a distraction from what he describes as "a mentally challenging year".
Jubb has been recovering from an ankle injury, with the pair keeping each other's spirits up through arduous periods of rehab.
"We've got through the process together, I suppose. He's one of my best friends and we keep each other just right," Draper added.
"We keep reminding each other it's a long journey ahead, we're both young and it's all going to come together at some point."