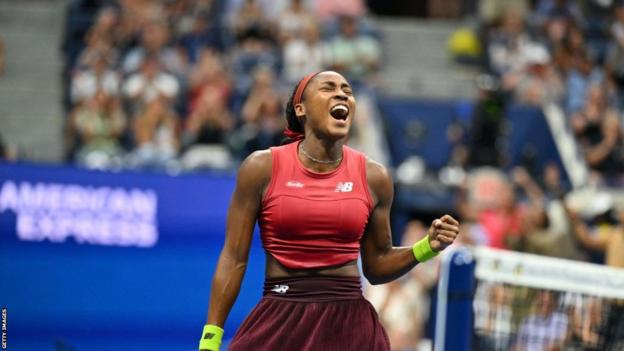 Venue:
Flushing Meadows, New York
Dates:
28 August-10 September
Coverage:
Daily live text and radio commentaries across the BBC Sport website, app, BBC Radio 5 Live and 5 Sports Extra
American teenager Coco Gauff fulfilled the potential she has long promised by landing her first Grand Slam title with a fightback win over Aryna Sabalenka in the US Open final.
Gauff, seeded sixth, started slowly in front of an expectant home crowd but grew in confidence to wear down second seed Sabalenka in New York.
Gauff, 19, clinched a 2-6 6-3 6-2 win on a delirious Arthur Ashe Stadium.
"I feel like I'm in a little bit of shock at the moment," Gauff said.
"I feel like God puts you through tribulations and trials and that makes this even sweeter," added the American, who lost in her only other major singles final at the 2022 French Open.
"I'm thankful for this moment. I don't have any words."
Australian Open champion Sabalenka, meanwhile, must wait for a second major title.
The 25-year-old Belarusian can at least console herself with the knowledge she will become the world number one for the first time.
Gauff will rise to a career-high third when the latest rankings are released on Monday – but claiming her first major at her home Grand Slam is what really matters.
When sealing victory with a backhand winner on her first championship point, Gauff immediately fell on to the court and laid on the sideline with her hands covering her face.
Almost the whole 24,000 crowd, which provided boisterous support throughout as they willed Gauff to victory, erupted in a frenzied celebration.
Gauff, overcome with emotion, made a heart sign to the fans before going up to the stands to see her parents Corey and Candi.
All three hugged and jumped in a circle as the family's sacrifices and hard work had resulted in one of the sport's biggest prizes.
From teenage phenomenon to Grand Slam champion
Since Gauff burst on to the scene as a 15-year-old phenomenon at Wimbledon in 2019, there have been expectations she would eventually become a Grand Slam champion.
Now, following a significant but steady rise as she got to grips with the professional tour, she has become the first American teenager to win the US Open since Serena Williams in 1999.
What makes it more remarkable is the way Gauff has turned her form around after a deflating first-round exit at Wimbledon in July.
She has recovered by winning 18 of her 19 matches since then and beating Sabalenka is a career-best 12th victory in a row.
Gauff has restored confidence in her groundstrokes, as well as developing an unwavering belief she can still turn matches around even when she is not playing well.
That was the key to grinding her way back into contention against Sabalenka.
It was the third time over the past fortnight – following an opening win against German qualifier Laura Siegemund and third-round victory over Belgian 32nd seed Elise Mertens – where she has fought back to win.
Gauff's victory is the culmination of an outstanding North American hard-court swing, where she won the biggest titles of her career in Washington and Cincinnati.
"I want to say 'thank you' to the people who didn't believe in me," Gauff said.
"A month ago I won a WTA 500 title [in Washington] and people said I would stop at that.
"Two weeks ago I won a 1000 title [in Cincinnati] and people were saying that was the biggest title would get.
"Three weeks later, I'm here with this trophy right now.
"I tried my best to carry with with grace but, honestly, to those who thought you were putting water on my fire, you were really adding gas to it.
"I'm burning so bright right now."
More to follow.