World Cup final referee Wayne Barnes revealed "vile" social media abuse towards him and his family "crossed a line" and those responsible should be punished.
His wife, Polly, previously said Barnes received death threats after the match.
"When people make threats against your wife and kids, they should be held to account and punished," Barnes said.
Barnes has taken charge of a record 111 Tests, which included officiating at five World Cups.
He showed the first-ever red card in a final to New Zealand captain Sam Cane for a high tackle as South Africa retained their title.
In his first interview since announcing his retirement, Barnes said he believed social media abuse was getting worse.
"Threats of sexual violence, threats of saying we know where you live. It crosses that line," he told BBC sports editor Dan Roan.
"Social media is getting worse and it's the sad thing about the sport at the moment. It has not been a one-off.
"I'm on social media for numerous reasons. One is to promote the charitable work I do and to also promote officiating and to explain what a difficult job it is and to humanise it.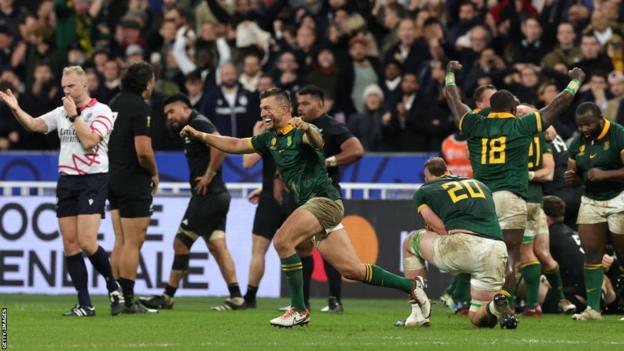 "I make that choice, and with that choice comes the ability for people to send messages of hate and violence."
Barnes said while he was able to "compartmentalise" the negative side of social media, he struggled when his family were subject to abuse.
"If you're a fan at your local rugby club and you're sending vile messages to people's families and making threats, why should you be able to be involved in the rugby family?" he said.
"The bit I've always struggled with and will continue to struggle with is when that abuse comes to my family.
"I want prosecuting agencies to consider ways of doing that, I want legislation of what social media sites can do to prevent it and I also want governing bodies to consider what they can do."
Taylor footage 'absolutely broke me'
Barnes said footage of football referee Anthony Taylor being abused by fans earlier this year had "made his heart bleed".
Taylor was confronted by Roma boss Jose Mourinho after he officiated in the Europa League final in May.
Mourinho was given a four-match ban for the incident but Taylor and his family were shouted at by angry fans in Budapest Airport, with one person being charged with affray, according to Budapest airport officials.
"It was hugely sad. That could easily have been me and my family after a game," Barnes said.
"I remember watching that video of Anthony and I was devastated because you see the human side.
"People don't see the human side of refereeing. They think we are the man or woman who turn up on a Saturday afternoon who ruin their day. But we are actually human beings with families and kids and to see Anthony on that day absolutely broke me.
"People in positions of responsibility have to realise our actions have consequences. You can't pick up your phone and abuse people. We need to be better."
Athletes from a number of sports have called out abuse on social media. Social media platforms have said they are committed to tackling abuse, with Instagram introducing a tool in 2021 to enable users to automatically filter out abusive messages from those they do not follow on the platform.
In his autobiography Throwing the Book, Barnes describes the abuse he has received in the past, which led him to consider quitting as a referee on several occasions.
The Englishman was also subjected to abuse after sending off France captain Antoine Dupont and South Africa flanker Steph du Toit in the Springboks' defeat in Marseille last year.
Barnes says it was a moment that could have fast-tracked his retirement as the abuse became more intense following criticism from South Africa director of rugby Rassie Erasmus.
"Without doubt, it was moment where you think 'why do we do this?'" he said
"But then you sit down and talk about it and realise there is only 10 months to go [until the World Cup] and you don't want the keyboard warriors to win."
'VAR still on an evolutionary process'
As well as his role as a referee, Barnes is also a lawyer and an advocate for officiating across all sports.
Barnes says football's use of the video assistant referee (VAR) still has some work to do to emulate the success of the television match official (TMO) in rugby union.
"Football has only had VAR in play for two or three years so they are still in that evolutionary period," he said.
"Rugby has been using TMO for over 20 years so we have been able to work on it. It is work in progress for VAR.
"The one thing we learned from rugby league in rugby union was a way of involving the fans. I went to Brentford v West Ham last weekend and what was really noticeable was that I didn't know something was being reviewed.
"After two or three minutes, as the crowd got a bit restless, it said video check over and the goal stood. I didn't know what, or where or how until I watched highlights on Match of the Day.
"I still think there is still a way to go in rugby. You sit there at Twickenham and you might see the replays but you don't hear what the referee is saying unless you're watching on TV.
"There is definitely an element we can improve for the fan experience because we want people in the stadium and I think all sports can learn from each other."