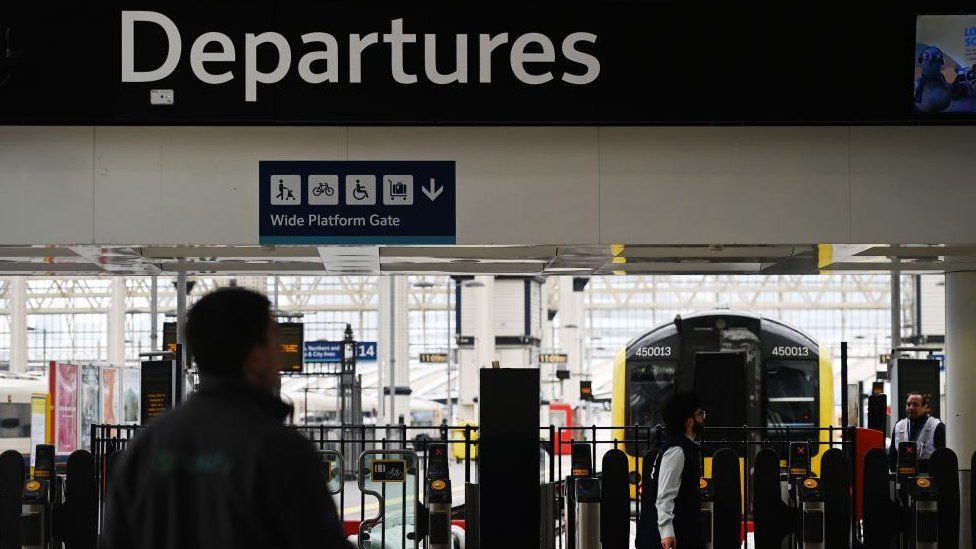 There will be more disruption to rail services between 1 and 9 December, as train drivers in the Aslef union hold further industrial action.
Both Aslef and the RMT, which represents other rail workers, have taken repeated industrial action over the past 18 months.
When are the train strikes in December?
Aslef members will stage a "rolling programme" of walk outs between Saturday 2 December and Friday 8 December with different train companies affected on each day.
Drivers are also refusing to work any overtime from Friday 1 to Saturday 9 December as part of the industrial action.
Many of the affected operators are expected to run no services at all on strike days.
Travelling on the day before or after strike days might also be affected.
On overtime ban days, there are likely to be some last-minute cancellations or timetable reductions.
Passengers are advised to check before they travel.
Which train company will be affected on what day?
Saturday 2 December: East Midlands Railway and LNER
Sunday 3 December: Avanti West Coast, Chiltern, Great Northern Thameslink, and West Midlands Trains
Tuesday 5 December: C2C and Greater Anglia
Wednesday 6 December: Southeastern, Southern/Gatwick Express, SWR main line, SWR depot drivers, and Island Line
Thursday 7 December: CrossCountry and GWR
Friday 8 December: Northern and TPT
For the latest information, passengers should check National Rail or individual operators' websites.
What about the RMT?
That lifts the threat of RMT strikes until at least the spring.
However, there could be more strike action later next year as the agreement does not cover future pay deals and the government and rail operating companies still want to push through changes to the way the industry works.
Are there still strikes on the Tube?
Strike action by thousands of RMT members who work in Tube stations was suspended in October following "significant progress" in talks between the union and London Underground.
Can I get my money back for strike days?
Passengers with advance tickets can be refunded fee-free if the train that they are booked on is cancelled, delayed or rescheduled.  
If passengers have a return ticket they may also be entitled to a fee-free refund if any part of the journey is cancelled due to strikes.
Season ticket holders (flexi, monthly or longer) who cannot travel can claim 100% compensation for strike dates through the Delay Repay scheme.
Why are rail workers striking?
Unions say they want a pay offer reflecting the rising cost of living.
But the rail industry is under pressure to save money, after the pandemic left a hole in its finances.
The industry says changes to ways of working need to be agreed in order for pay to go up.
How much are rail workers paid?
If drivers are excluded (because they tend to be members of the Aslef union, not RMT) its estimate is £39,518. However, the RMT union said that figure was too high because it does not include rail cleaning staff.
The ONS says median pay for "train and tram drivers" is just under £59,000.
What deals have been accepted and rejected?
The Rail Delivery Group (RDG), which represents train companies, made an offer backdating a pay rise of 5% for 2022-23. It also includes some job security guarantees.
After voting to accept the deal, the RMT said it would continue to negotiate with individual operators over reforms to working practices and a second year's pay rise.
The Aslef union rejected a two-year offer which would see drivers get a backdated pay rise of 4% for 2022 and a 4% increase this year.
Aslef general secretary Mick Whelan has said it had been forced into taking industrial action because the train companies "refuse to sit down and talk to us and have not made a fair and sensible pay offer".
The Department for Transport has said: "The government has met the rail unions, listened to them and facilitated improved offers on pay and reform."
The union said the offer amounted to an uplift on salaries of between 14.4% for the lowest paid grades to 9.2% for the highest paid.
How much notice do unions have to give before going on strike?
Unions are obliged to give at least 14 days' notice of any strike action.