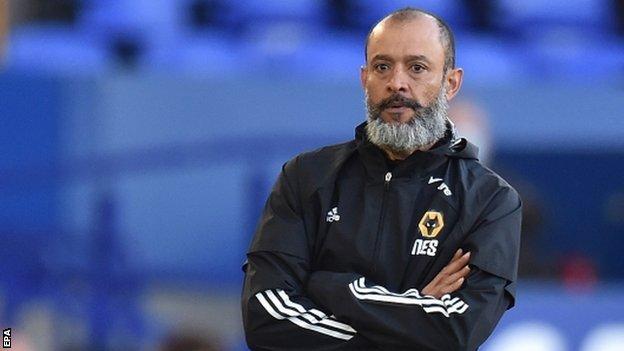 Portuguese manager Nuno Espirito Santo will leave Wolves at the end of the season by mutual agreement.
The former goalkeeper left Porto to take charge in 2017 and Wolves won the Championship title in his first season.
After finishing seventh in the Premier League in the last two seasons, the 47-year-old signed a three-year contract extension last September to 2023.
Wolves are 12th heading into the final game of the season at home to Manchester United on Sunday.
"Since the first day we arrived at Compton [training ground], our ambition was to make a positive change and push this football club forward," said Nuno.
"I am proud to say that we did that every single day. We achieved our goals, we did it with passion and we did it together."
"Sunday will be a very emotional day but I am so happy that the fans will be back in Molineux and we can share one last special moment together, as one pack."
Jeff Shi, the club's chairman, said: "Nuno has brought us some incredibly special moments at Wolves that will never be forgotten but every chapter comes to an end.
"His loyalty and dedication over the last four years has been immeasurable and we cannot thank him enough for the progress he has made for Wolves.
"Sunday was already going to be a very special day, welcoming our supporters back for the first time in more than a year, but it will also now be a fitting goodbye for someone who will forever remain an important part of Wolves history."
Analysis – 'Some thought Nuno had taken Wolves as far as he could'
Simon Stone, BBC Sport
The shock of Nuno's departure comes more from the timing rather than the fact it is actually happening.
It has been clear all season he has not found it easy working in a pandemic, away from his family and trying to find answers to unexpected problems on the pitch.
There was concern he might walk away at the end of last season but instead the club funded an expensive rebuilding exercise, partly through the sale of Diogo Jota to Liverpool. That was supposed to usher in a more expansive style of play compared to that which had taken the club to successive seventh-placed finishes.
It didn't work. Switches between the trusted three-man back-line to a four, inconsistency in midfield and the horrendous, season-ending injury for Raul Jimenez all combined to create a disappointing campaign that led to grumbles from many Wolves fans that Nuno had taken the team as far as he could.
That judgement seems harsh. In the last 60 years, Wolves have only finished above their present 12th spot in the top flight on seven occasions – and two of them were the last two seasons under Nuno.
Given chief executive Laurie Dalrymple and director of football Kevin Thelwell have already gone, Wolves will have lost three major figures in their rise from the Championship to the Europa League quarter-finals in the space of two years.
Jeff Shi now has a major task on his hands but, given the influence of Portuguese super-agent Jorge Mendes at Molineux, don't be surprised if there is a familiarity of nationality at least about the identity of Nuno's successor.